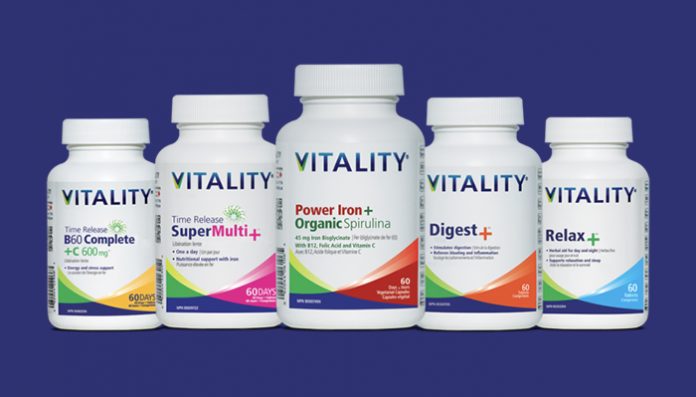 Vitality Products Inc. (the "Company" or "Vitality") is pleased to announce it has achieved its highest sales quarter since the revitalization and launch of Vitality products in fiscal 2014.  Sales for the three months ended July 31, 2019 of the Company's premium natural health products increased to $150,937 (2018 – $146,861) as the Company launched the new bottle size of 120 vegetable capsules of Vitality Power Iron + Organic Spirulina in June 2019.
The financial results of the Company for the three months ended July 31, 2019 show a net loss of $7,002 or $0.00 per share compared to a net loss of $265,776 or $0.01 per share for the same period last year.
"We are pleased with the traction Vitality has made in the natural health market, and the continued growth of Power Iron with the introduction of the new 120 vcap size, and additional shelf presence at leading retailers across Canada," said Cheryl Grant, President and CEO.  "The Company continues to diversify sales from a few key groups over the last three years, to dozens of leading retailers which will provide a base of stability and future growth."
The Company's general and administrative expenses for the three months ended July 31, 2019 decreased to $115,383 (2018 – $370,774) as the Company recorded a share-based compensation expense of $Nil (2018 – $238,700).  The cost of sales increased to $39,365 (2018 – $38,451) and wages and salary increased to $50,301 (2018 – $41,348) due to the Company's focus on expanding distribution and growing sales nationally and online.  The Company received $29,761 (2018 – $32,768) of government assistance that offset additional resources spent on the Vitality branding, products, marketing materials, website development, salaries and expanding distribution channels.
Vitality's products are now available for sale in 575 retail stores (2018 – 550 retail stores) located in Canada and online at vitality.ca, amazon.ca and well.ca.  A full list of the retailers is available at www.vitality.ca.
The Company's condensed interim financial statements and management's discussion and analysis for the six months ended July 31, 2019 and 2018 are available on the SEDAR website at www.sedar.com.