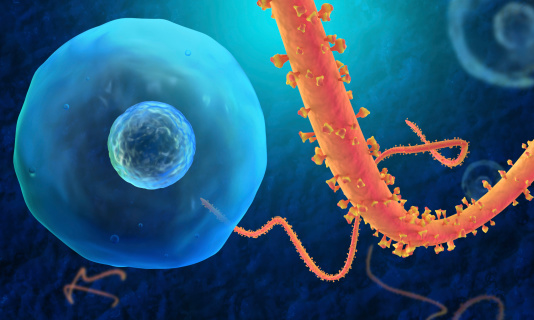 Preliminary results of a study into persistence of Ebola virus in body fluids show that some men still produce semen samples that test positive for Ebola virus nine months after onset of symptoms. The report was published on October 14 in the New England Journal of Medicine. The long-term study is being jointly conducted by the Sierra Leone Ministry of Health and Sanitation, Sierra Leone Ministry of Defence, the World Health Organization and the U.S. Centers for Disease Control and
Prevention.
"Sierra Leone is committed to getting to zero cases and to taking care of our survivors, and part of that effort includes understanding how survivors may be affected after their initial recovery," says Amara Jambai, M.D., M.Sc., Deputy Chief Medical Officer for the Sierra Leone Ministry of Health and Sanitation. "Survivors are to be commended for contributing to the studies that help us understand how long the virus may persist in semen."
Ninety three men over the age of 18 from Freetown, Sierra Leone, provided semen samples that were tested to detect the presence of Ebola virus genetic material. The men enrolled in the study between two and 10 months after their illness began. For men who were tested in the first three months after their illness began, all were positive (9/9; 100 per cent). More than half of men (26/40; 65 per cent) who were tested between four to six months after their illness began were positive, while one quarter (11/43; 26 per cent) of those tested between seven to nine months after their illness began also tested positive. The men were given their test results along with counseling and condoms. What remains unclear is why some study participants had cleared the fragments of Ebola virus from semen earlier than others. The U.S. Centers for Disease Control and Prevention in Atlanta is conducting further tests of the samples to determine if the virus is live and potentially infectious.
"These results come at a critically important time, reminding us that while Ebola case numbers continue to plummet, Ebola survivors and their families continue to struggle with the effects of the disease," says Bruce Aylward, WHO Director-General's Special Representative on the Ebola Response. "This study provides further evidence that survivors need continued, substantial support for the next six to 12 months to meet these challenges and to ensure their partners are not exposed to potential virus."
"Ebola survivors face an increasing number of recognized health complications," said CDC Director Tom Frieden, M.D., M.P.H. "This study provides important new information about the persistence of Ebola virus in semen and helps us make recommendations to survivors and their loved ones to help them stay healthy."
There are more than 800 male survivors across the three countries who need appropriate education and regular testing to help them take appropriate measures to prevent potential exposure of their partners to the virus.