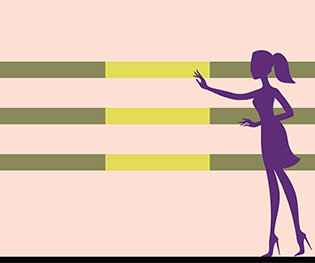 Increase the shelf life of your business—and prevent out-of-stocks—with Smart Shelf
BY CORRINA MOSCA
ABOUT NEWAVE SENSOR SOLUTIONS AND THE WAVE ANTENNA
As a leading provider of optimized solutions for today's most challenging item-level Radio Frequency Identification (RFID) problems, NeWave* works to create effective and easy-to-use solutions for the biggest issues in retail.
NeWave was founded in 2009 by Dr. Walter "Den" Burnside, an internationally-renowned expert in radio frequency (RF) technology, an Emeritus Professor at The Ohio State University (OSU), and the former Director of OSU's world-class ElectroScience Laboratory (ESL). The ESL operates under the direction of NeWave's Chief Technical Officer (CTO), and is produced in partnership with Wistron NeWeb Corporation (WNC), the Taiwan-based global leader in antenna manufacturing.
Through his work at the ESL, Dr. Burnside and his colleague, Dr. Robert Burkholder, created the company's innovative Wave platform. The Wave is the first and only antenna specifically designed to be used only for item-level RFID solutions. While traditional antennas of this sort radiate a single main beam in a given direction to complete readings, the Wave antenna generates five beams with multiple polarizations, allowing for better accuracy, efficiency, and versatility.
Currently, NeWave has applied this unique technology to Plug and Play Portals, Smart Inventory Management Systems (SIMS) and Smart Shelf. Other applications for the antenna are also being developed with the hope to improve businesses' operating costs.
NeWave's management team leverages a strong technical and international business heritage in a variety of industries for accomplishing its mission of providing optimized solutions to today's greatest RFID challenges. For more information, please visit www.newaverfid.com.
*NeWave®, Wave® and Smart Shelf™ are trademarks of NeWave Sensor Solutions, LLC Plain City (Columbus), Ohio USA.
While it might sound like something out of a Ridley Scott movie, the Internet of Things (IOT) is slowly making its way into modern-day retail—and your store could be next.
Defined as the Internet-based interconnection of computing devices embedded in everyday objects, the IOT allows individuals to collect, send, and receive data through traditionally offline entities. One of the newest applications of this technology is NeWave's Smart Shelf, a revolutionary in-store inventory solution.
STOCKING UP
Made with NeWave's Wave Antenna technology, Smart Shelf allows retailers to continuously monitor merchandise availability at the shelf level—in real-time. Because of this, Smart Shelf prevents out-of-stocks (OOS) dramatically; in real-world tests, on-shelf availability was shown to improve by nearly 70 per cent with this technology.
While traditional RFID technologies require products to be tagged in order for a proper reading to occur, Smart Shelf places tags on the product pusher. The spring attached to the pusher blocks each tag until an item is removed, exposing the tag. Smart Shelf then reads the tag with 99+ per cent accuracy, notifying staff when a restock is needed—without any added tagging, labour, and maintenance costs.
TURN A PROFIT
Because of its incredible time-, effort-, and money-saving applications, Smart Shelf is the latest and greatest must-have for all retailers. With its ability to track movement on the shelf, it has great applications for increasing profit—and decreasing losses through OOS.
"Stores are always looking to reduce their out-of-stocks, and Smart Shelf is giving retailers the ability to do so. Plus, less out-of-stocks equals more sales," says Ted Harvey, head of sales and marketing at NeWave Sensor Solutions Canada. "When a product reaches a threshold set out by a store, a restocking alert is sent to an in-store phone, tablet, or computer, advising the store staff that they need to restock that SKU. This allows retailers to know how many products are on their shelves at all times."
What's more, Smart Shelf has excellent information-sharing capabilities, allowing retailers to track inventory and sales easily and comprehensively. Through the related phone app, retailers can receive wide-ranging reports on OOS occurrences, shelf movement detail by item, item restocking, low inventory, and replenishment alerts. Detailed information on shelf sales are also available by season, week, day, and time of day.
NEED WE SAY MORE?
However, Smart Shelf is no one-trick pony: this technology also prevents against theft. When an unusual number of items are taken off the shelf simultaneously, loss prevention personnel are notified. A subtle alarm system and video recording are also triggered, helping to capture any crime that may be taking place. And, it really works: in real-world tests, Smart Shelf reduced the theft of a popular energy drink from 30 per cent to three per cent in only three days.
"Knowledge is power—no one has ever, on a mass scale, been able to tell you exactly what is happening at the shelf level," adds Harvey. "All product movement, replenishment, and depletion is recorded and can be thoroughly analyzed. This innovative technology also identifies bottlenecks in the system, and increases revenue by ensuring that there is product on the shelf to sell."
It's simple: if you want a more far-reaching, accurate, and efficient way to track your inventory and increase your sales, your store needs Smart Shelf. This top-shelf solution is sure to enhance your business—and make your life a whole lot easier.
SmartShelf was selected as a CES 2016 Innovation Award Honoree in the "Unmanned Systems and Accessories" category for its engineering, user value, design, aesthetics, and novelty.