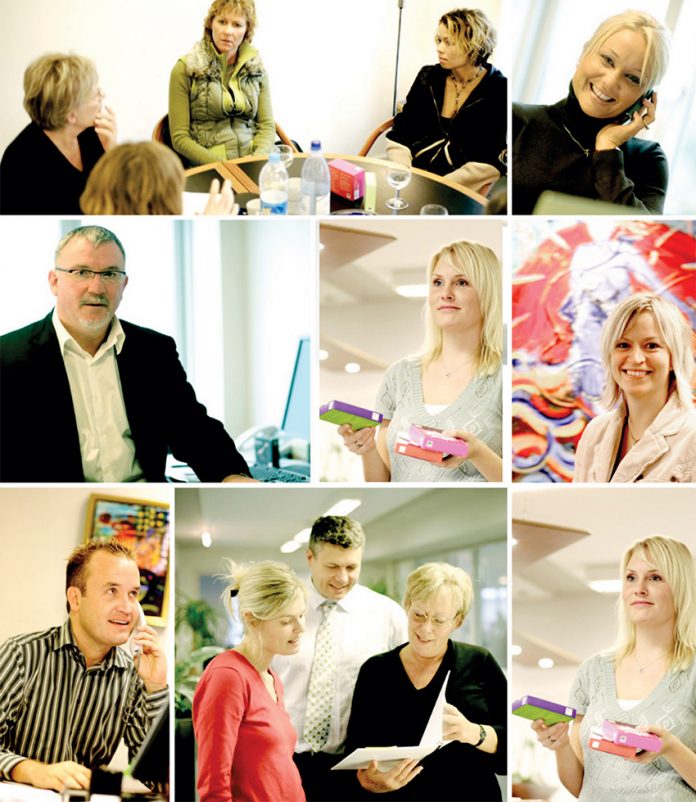 If anything, the world has become more competitive in the past few years since the global economy hit a speed bump. Now we take a moment to check in with some of the companies that have stood the test of time from start-up to success, and see how they're adjusting to the current challenging business environment.
New Nordic in Canada
As a global company originating in Sweden, New Nordic has been actively growing its footprint in the Canadian market. Jan Petersen, who is the general manager for the Canadian and U.S. operations, tells us how the Canadian subsidiary has grown its sales and product line over the past few years, even switching locations to accommodate more employees.
The growth has been anchored by the company's focus on new and innovative products, and on ongoing marketing support for these products. New Nordic has recently partnered with Purity Life for distribution to health food stores in Canada.
"We are very pleased to be working with Purity Life, and they have proven to be a professional and very pleasant partner to work with," says Petersen.
"This year we're introducing quite a few new products and lines that we are very excited about," he continues. "One is a new detox product, which is a line extension of our known Biofirm product. You could call it a daily detox, one that emphasizes the importance of a healthy liver. We are also launching a very interesting hair, nail and skin product that has done well for us in all other markets. These products are available now."
Recently, New Nordic has also gained the rights to distribute an internationally recognized product line from Switzerland for ADHD symptoms. Equazen Eye Q, as the line is called, is approved by Health Canada to improve concentration levels in children and adolescents with ADHD. The products have undergone extensive clinical testing and are based on a very specific ratio of essential fatty acids.
"Once the Canadian consumers and professionals realize the potential of this product to help their condition of ADHD, naturally, I think it will be a very popular product," Petersen says.
New Nordic now operates in 20 countries worldwide, and is dedicated to building its business in Canada and globally. "More than ever, we are developing new products and product lines," says Petersen, "which I think is the right way to move the company forward." –Gord Henning
Company Snapshot
Company Name: New Nordic Inc.
Location: Head office, Malmo, Sweden (Canadian operations are run out of Montreal, Que.)
Phone: 514-419-5160
Website: www.newnordic.ca
Employees: 6
Michael Theodor Brokerage Inc.
One of Canada's leading natural product brokers, Michael Theodor Brokerage Inc. (MTBI) opened its doors back in 1979. Today, the company is still evolving, still striving to maintain its competitive edge. One example of this is currently being rolled out to the compay's reps: a tablet computer to simplify travelling sales. "They'll use the tablet instead of having to pull out sales sheets," says Jimmy Vaid, vice president of MTB. "One of the big changes we've gone through is moving from national to regional sales management."
MTB has hired two new brand managers, and is also experimenting with dividing the company's reps according to categories in a number of geographic areas across the country. "Especially on the supplement side, it's a different sell," says Vaid, and having specialized reps makes it easier. "It gives the retailer a different resource to rely upon, and it also helps our vendor partners, because the rep is better able to answer any product-related questions the retailer may have."
There are a number of product segments that MTB has targeted for expansion this year. "We are very focused on growing the supplements business," Vaid points out, noting demographics as a major driving force behind the potential of the baby boomer market.
"We are really active right now in protein products," says Vaid, products such as organic chicken and wild sustainable fish. "I think MTB is the only broker in those categories, leading the way. The knowledge that we have and the employees that we have, really allowed us to break into these new markets."
A few years back, MTB had acquired a beachhead in Hong Kong to tap the enormous potential of the Asian market; however, it was distracting from the business in Canada, says Vaid. "We were experiencing a lot of growth in Canada, so we pulled back from Hong Kong. Now we're completely focused on serving and growing with this market." It's a focus that is serving the company well. –Gord Henning
Company Snapshot
Company Name: Michael Theodor Brokerage Inc.
Location: Toronto, Ont. & Richmond, B.C.
Phone: 1-800-668-3008
Website: www.mtbi.ca
Employees: 28
Ascenta Health Ltd.
Ascenta's award-winning NutraSea brand has come a long way since its introduction to the market in 2003. These Canadian pioneers of the omega-3 fish oil category boasted a 700 per cent boost in second-year sales. This successfully secured the fledgling Nova Scotia-based company's place in the competitive natural health products market.
"Ascenta exists to create positive social and environmental change. We are guided by the elements of our living manifesto in all that we do, which helps us live a culture that is aligned with our values and helps us attract the best staff and external partners to reach our goal," says Alexandra Orozco, vice president of marketing. Since Ascenta introduced its turnkey product, NutraSea, they now "have a SKU line-up that offers an optimal omega-3 formulation for everyone in the family."
Not only is Ascenta committed to its employees, clients and brands, its sustainable practices have demonstrated a commitment to the environment, as well. In the last decade, Ascenta donated one per cent of sales to environmental groups.
"Our own health and happiness is tied to the planet's health. We've only ever used sustainable oil sources. We work to minimize our ecological footprint, and we are proud to have been the first natural health company to donate one per cent to the planet," explains Orozco.
With a significant amount of research and development, extensive internal training and its Pure Check certification program, Ascenta has been able to get a leg up on production in the fatty acids category. The Pure Check logo, which can be found on all Ascenta products, guarantees that these supplements have been tested for contaminants, as well as undergone strict quality control. "Unlike many brands that don't meet label claims, we do: for every bottle we produce, you can see it for yourself," Orozco says.
Ascenta's sales staff pride themselves on their continued commitment to their relationships with retailers. Instead of simply wanting to get retailers to buy their products, the company's primary goal is to develop a strong bond with each retailer by providing them with easy access to experts and education. Ongoing improvements to retailer education programs give Ascenta that edge they need to maintain leadership in their category and the industry.
Ascenta's team of scientists is always hard at work developing new, innovative products to help consumers get, and stay, healthy. Although Ascenta is keeping the introduction of its newest products under wraps, Orozco divulges, "We will be launching a couple of products over the next 12 months and are very excited, given their level of innovation." –E. Z. Guler-Tuck
Company Snapshot
Company Name: Ascenta Health Ltd.
Location: Dartmouth, N.S.
Phone: 1- 866-224-1775
Website: www.ascentahealth.com
Employees: 50+
New Age Marketing
With an arsenal of non-dairy beverages, natural and organic juices and sodas, energy drinks, nutrition bars, organic herbs and spices, bulk natural and organic foods, green supplements, vegan meat alternatives and personal care products, New Age Marketing is one of Canada's leading natural product
brokerage firms.
"Founded over 25 years ago, New Age Marketing played a pivotal role in actually introducing leading brands in each of these categories to natural channel distributors and retailers initially.And over the years we assisted in building their sales and market penetration to include the supermarkets, chain drug stores and convenience stores," explains Michael Weiner, director of new business, market development and consulting.
Recently, the company worked on a succession plan that culminated in a very important announcement in January of this year. "[We are] pleased to announce that three long-term employees of New Age Marketing, Frank Gallucci, Alex Fossella and Marco Blouin have taken the reins of the company under New Age Marketing & Brand Management," says Weiner.
One of the driving forces behind the company is the successful sales of many of its key brands, including Knudsen and Santa Cruz beverages, Vitasoy, Frontier and Simply Organic herbs and spices, Mary's organic crackers, Bakery on Main Gluten-Free cereals, Aubrey personal care products and Aura Cacia aromatherapy products. Each brand has come part and parcel with a solid creative program and marketing strategy.
"Many industry strategies which are common today were actually first developed and implemented by New Age Marketing for some of our leading brands over 20 years ago to take advantage of growing market needs and trends," says Weiner. These include the introduction of tiered case stack programs, MCB programs, multiple purchase initiatives, full truckload and ocean container load pricing and major data subscriptions used to better analyze mass market sales trends.
The future is bright for the folks at New Age Marketing as they continue to grow their staff and network while providing ethical sales and marketing practice, and focus on natural and organic ingredients.
"We have attracted new products to our portfolio, including Bella Italia, Bold Organics and Earth Friendly Product. We are always seeking high-quality brands to represent and high quality people to work for us and with us," says Weiner. With a winning formula like this, their representation and marketing in the industry will lead the company in the right direction. –E. Z. Guler-Tuck
Company Snapshot
Company Name: New Age Marketing
Location: White Rock, B.C., Calgary, Alta., Toronto, Ont.
and Montreal, Que.
Phone: 1-888-868-0127
Website: http://newagemarketing.ca
Employees: 15
Land Art
Not every company specializing in botanical extracts can succeed. That's why when Michael Deslandes, a biologist and flavour chemist, made a chlorophyll drink that actually tasted good, they knew they were on the right track to greeny goodness.
The "Land Art Adventure" began with the efforts of Deslandes and his father Jean-Claude in 1992. This family-run Canadian company grew rapidly, leading the race in the liquid dietary supplements field. "As of today, we have more than 50 different products fulfilling specific needs. Our staff is highly qualified to answer any of your questions," says Deslandes.
The success of the company over the years has been attributed to its team of lab experts and multidisciplinary scientists, who take naturopathic and scientific approaches to developing its brands. Land Art's in-house naturopath, Andre Gagnon, stands by the effectiveness and high quality of the company's easy-to-use supplements. "To ensure quality, every batch [of product] is analyzed by an independent laboratory before it is shipped to the market. Nothing is neglected, to ensure the highest quality standards possible," explains Gagnon.
Since we last checked in with them, after 20 years of striving to position themselves as the leading liquid supplements provider in the country, they have found a winning "formula" (or many) that works. "What distinguishes our [brand] is the variety of the formulas and the quality of the ingredients. Another bestseller is the B-complex, known for its good taste and balanced dosage of active ingredients," says Valerie Deslandes, the third generation, now driving the brand in sales and marketing.
A rapid expansion plan is in the works for Land Art, as they push hard to gain an edge with their marketing strategy. They have cornered the Quebec market, and now the company has its eyes set on Ontario and California for 2012.
The company's growth will heavily depend on how well it can maintain its high standards and stick to its roots, "The company is still 100 per cent local and buys some local material and ingredients most of the time when possible. We do not use any artificial flavouring, colouring or sweeteners," says Deslandes. "Our in-house quality control specs are much more severe than Health Canada's, and all the products are guaranteed gluten-free."–E. Z. Guler-Tuck
Company Snapshot
Company Name: Land Art
Location: Varennes, Que.
Phone: 450-929-1933
Website: www.landart.ca
Employees: 20