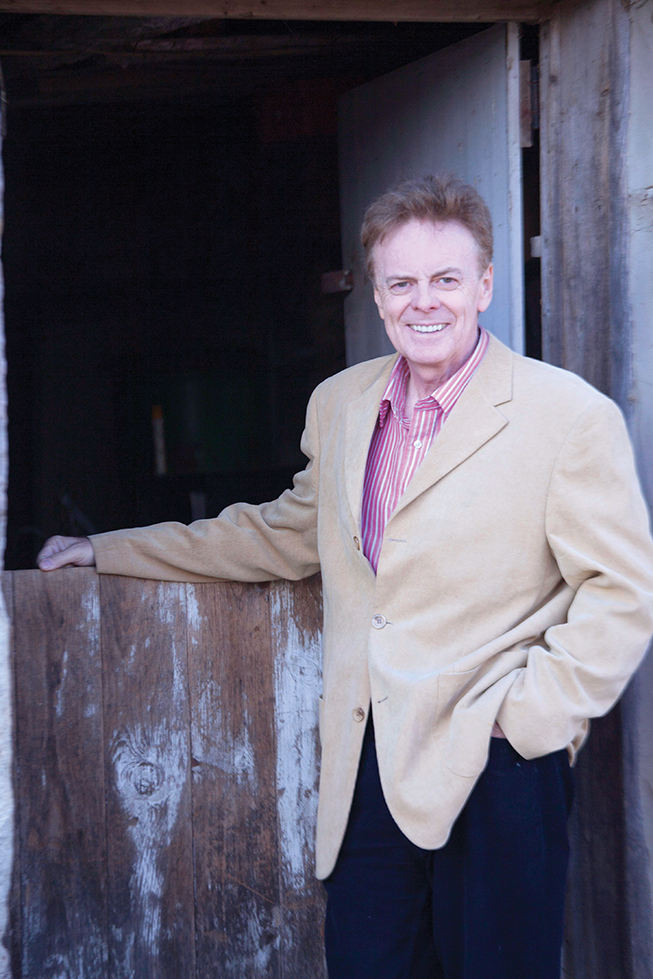 The Business of Change
David Chapman says goodbye to Purity Life, yet admits he is not ready to retire. He learned some valuable lessons while making a name for himself in the industry and now he's ready to share them.
By Carlos Weigle
Photography by Julie Broadbent
David Chapman's story is somehow similar to those of many other entrepreneurs: tried a few different businesses, wanted to do things his way, was daring, ambitious and also idealistic. The difference between Chapman and others is that not only did he find his way, he also built an impressive career and became someone highly respected in his industry.
After founding Purity Life with his wife Elyse and turning it into the powerhouse it is today, he decided to (partially) retire. While he's taking a well-deserved break and preparing for the next phase in his life (which includes consulting for companies in the industry), he agreed to look back at some of the challenges he faced, as well as some of his accomplishments.
It all started with a need to break the rules. "I guess the best way to explain it is I'm a child of the 60s, which means I was naturally a little bit of a rebel to the establishment," explains Chapman, "and for some reason, I always knew that medical science and conventional medicine were very narrow in their approach." Sadly, rebels such as Chapman are as necessary today as they were back then: "Things haven't changed much since; in fact, they've been reinforced," he adds.
Chapman started his professional life as an accountant, which he found limiting. That's when he had the opportunity of becoming a wholesaler, and everything changed. "I quickly realized that's what I wanted to do," he says.
He ended up selling his first wholesaling business (computer components) and looking for what he was going to do next. One of the fields that caught his attention was solar panels and renewable energy. "This was back in 1983," he recalls, "and I quickly realized it would require tons of money to get into that business, which was in its infancy back then."
Chapman's future clearly lay elsewhere, though it was clear he was interested in following the less-traveled path. He then bought Prevention magazine and found out about various products that were being sold by mail order. That's when he had the idea of approaching some of those companies and asking them, "How would you like to sell your products in Canada?" He was soon selling an innovative type of knee support, and apricot kernels, which were believed to have anti-cancer properties.
Then along came Lavilin, a unique long-life herbal deodorant. "This one really worked," says Chapman, "so much so that, after 27 years, we're still selling it at Purity Life." An American company had the rights for the product for North America and had done advertising in the U.S., which helped get interest in Canada.
The deodorant wasn't a sensation overnight, and Chapman found himself waiting for his phone to ring. Fortunately, he met someone who worked for a natural health magazine, advertised his product there, and finally started selling it to health food stores across the country. "We were successful, though we lost a lot of money the first six months; after that we started earning a little bit of money," he says.
"About two years after I was in business, I went to my first show, which was in Washington, and I picked up many product lines there. By then my wife had also joined the business. We basically grew from there and took off," recalls Chapman.
Even though he concedes that "we were at the right place, at the right time, in the right industry," he also recognizes that two other big players in the health food sector, which started around the same time he did, eventually went under. Being at the right place at the right time certainly plays a role in helping a business grow. However, as those two competitors found out, it also requires being led by uniquely talented people such as the Chapmans.
By 2000, Purity Life was doing really well. It was recognized as "supplier of the year" by the CHFA and business was booming. Yet it was then Chapman decided to take the company to the next level and create its own brands: "That was sort of a major breaking point for us. We had helped some other companies build their brands in Canada and we were, quite frankly, heartbroken when in spite of our success they decided to go elsewhere. It was very disappointing since we had done all the branding work for them. So we quickly understood that one of the problems of being a broker or distributor is that you help suppliers and they are not always loyal."
Opportunity knocked when Vita Health was bought by another company and decided to sell its distribution business as well as its brands. That's when Chapman decided to buy the Nature's Harmony brand. "That was our real big launch into brands and we continue to sell Nature's Harmony in health food stores to this day," he says.
It was a good deal, since Purity Life wasn't carrying any vitamin brands at the time, and Chapman ensured his own brands weren't competing with the ones he was already distributing. That strategy hasn't changed. "We're still primarily a distributor," says Chapman. "Of course, we focus on our own brands, yet always making sure we're looking after our distribution brands."
Another crucial moment in Purity Life's evolution came in 2006, when Chapman decided to sell his company to SunOpta. "We had been approached a couple of times before and I always said no, because I didn't know what I was going to do if I sold the company," says Chapman. "Finally, SunOpta made us a good offer which included me staying on for five years, so we accepted it."
Throughout the years, Chapman has not only played a key role in our industry, he has also witnessed the many changes it's been through. As he points out, "we went from being basically a collection of 'mom-and-pop stores' headed by often interesting characters, hippies and rebels, to a more businesslike environment. Yet we're still keeping up with the basic spirit of the industry, which is helping people."
The changes that happened at the company level were also reflected in the trade associations that represented those companies. "I'm very pleased to see that the CHFA has become a very professional organization, one that is doing a tremendous job at supporting the industry, as well as dealing with regulatory issues."
Again, Chapman was part of that transformation, as he was a CHFA board member for over 20 years. When recalling some of the main battles he faced during that time, he doesn't hesitate to point out "the policies and attitudes of Health Canada," issues he feels have been addressed. "Health Canada takes our industry seriously now."
Of course, he's well aware that some of his colleagues disagree with him and have some strong (negative) opinions when it comes to the regulatory body. "I agree that some of Health Canada's policies are absurd and some are difficult, yet for the most part we are selling a lot more products than we did five or 10 years ago, many more, in fact," says Chapman.
On that note, he also says that "those of us who have done the work to register our products are becoming more and more frustrated with the whining of people who have not done any or very little regulatory work and are still complaining that their products aren't registered." Chapman doesn't hide how he feels about some of his colleagues in the industry: "I'm a little frustrated by some of the carrying on that I hear all the time. We're not dealing with a perfect system; still; it's better than the one we used to have and that's what people need to be reminded of."
As an example of how the situation is indeed better, Chapman emphasizes that "there's a long list of products, such as amino acids or melatonin, that were unavailable to us, and that we're now selling and quite reasonably." Health Canada's policy on the requirements to get new multi-ingredient products approved is something that is not that reasonable to him. Chapman adds that some of the clinical research studies required "are expensive and not realistic, and need to be changed. So I agree there are definitely wrongs in the system, yet again, at this point, they are listening to us and they are working on a new policy that would be more reasonable."
As someone who survived numerous ups and downs and built a company strong enough to be coveted by the competition, Chapman has a few words of wisdom for those who want to "make it" in the industry. He points out that "we have to accept we are going to be regulated, whether we like it or not." According to him, another key factor for any successful company is to "come up with products that are going to make a difference in people's lives, support those who are doing regulatory work, and support innovation."
Pricing, of course, is also crucial. "It's not just price. So many people are hung up with that; it's also service, it's everything else you bring to it." Chapman believes another important reason why so many businesses don't survive nowadays is that some of the people involved in them "have no business training and don't understand simple concepts such as margin."
Speaking of pricing, does he feel smaller retailers have a fighting chance when it comes to competing with some mass marketers that are now selling supplements and natural health products? "Well, if they're trying to compete pricewise on products such as vitamin C, of course it will be very tough. Yet I think health food stores, if they stick to what they do well, which is knowledge and education, will always have their niche."
Chapman feels now is a good time to share some of the knowledge he gained through the years and help others in the industry. "I can potentially save some people a fair amount of heartache." He believes he can, for instance, help Canadian companies enter the desirable and ever-growing Asian market.
"There are certainly opportunities there – the Chinese like to buy North-American products because they're often afraid of their own. As it happens, the same publicity that hurt Chinese manufacturers in Canada, hurt Chinese manufacturers in their home country.  The saddest part is that it's not true: there are a lot of really good, very-high-quality Chinese manufacturers."
The man who admits he is "not ready to sail into the sunset yet" still has a lot to contribute to the industry. Chapman can be reached at david@adeptcanada.ca. Many will undoubtedly be willing to listen.