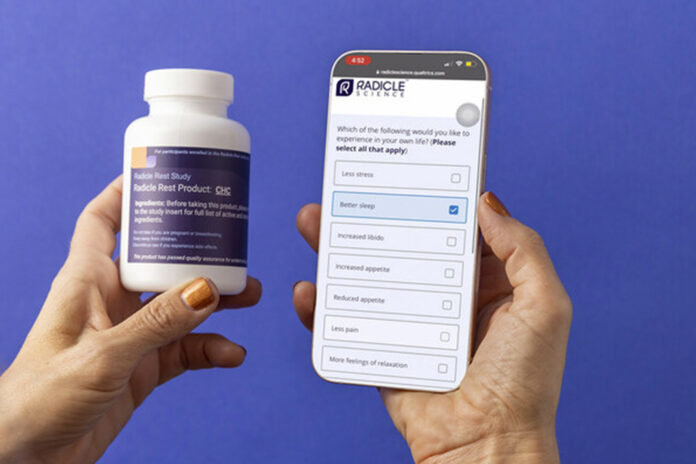 Supplement Industry Leaders Join Radicle Science as Proof-as-a-Service Pioneer Expands Clinical Trials to Address New FTC Guidance
Radicle Science, a pioneer in Proof-as-a-Service, is expanding its standardized clinical trials to address the Federal Trade Commission's new Health Products Compliance Guidance, with the aim of bridging the gap between supplements and pharmaceuticals.
 The company is adding gut health and cognition to its portfolio, in addition to existing study protocols, including general pain, sleep, mood/feelings of anxiety, stress, energy, and quality of life/overall health.
Radicle Science's double-blind, randomized, placebo-controlled trials enable supplements to make validated claims based on study populations relevant to their target customers, which is a significant achievement given that the supplement industry is defending itself against class-action lawsuits for carrying misleading supplements. To this end, Radicle Science is collaborating with industry thought leaders such as Tom Aarts, and establishing key partnerships with trade groups and retailers, such as the United Natural Products Association and Love. Radicle Science's innovative approach to clinical research has received recognition from KPMG, UCSF Digital Health Awards, and the City of San Diego's Innovation Day.
Radicle Science's innovative clinical research approach has garnered awards including:
• KPMG Top 10 "Tech Innovator" in America
• UCSF Digital Health Awards "Rising Star" finalist in Consumer Wellness
• Named "2022 Cool Company" at the City of San Diego's Innovation Day
• Selected as the Industry Partner for two University of California San Diego "Innovation Sprints" in technology and marketing
• Chief Research Officer Dr. Emily Pauli won "Woman of the Year in Healthcare" by the International Stevie Awards and the Outstanding Leadership Award by Health 2.0
• Cofounder and Executive Chairwoman Pelin Thorgood was named "Maverick of the Year" by the International Stevie Awards and a "Top 50 Leader in Life Science" by the San Diego Business Journal
• Cofounder and CEO Dr. Jeff Chen was named "CEO of the Year" finalist by the San Diego Business Journal