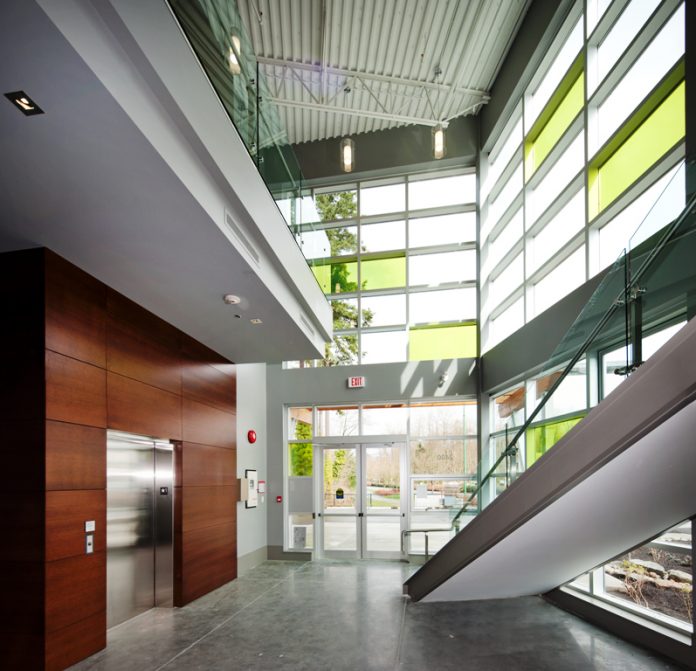 Parissa Labs has recently moved into its new office space in North Vancouver, BC, which was designed by Helen Besharat for Besharat Friars Architects on behalf of the company to meet the highest eco-friendly standards. The facility was built from the ground up to meet LEED Gold Standards.
Parissa Labs' new office was landscaped using mostly drought-tolerant native plants to promote biodiversity and water conservation. In fact, of the 4,777 drought-resistant plants used in the site's landscaping, only 172 are non-native species. The location for the building was chosen in a tree protection zone to protect 80-year-old trees in the region and their roots. The building has a lower parking capacity and carpool spaces to encourage alternative transport, and the parking lot is also equipped with two preferred spaces for electric vehicles complete with charging stations.
The inside of the building is also incredibly eco-friendly by recirculating water from the company's production to flush the building's toilets, saving over 14,600 litres of water annually. All of the adhesives, sealants, paints, coatings and carpets used in the building meet or exceed VOC content limits. Window sizes and locations were chosen to give 75 per cent of the office space natural daylight, while 90 per cent of the office space has an outdoor view.
The facility has won the Award of Excellence and Green/Energy Efficient Merit Award by the Real Estate Board of Greater Vancouver, as well as an honourable mention in the City of North Vancouver's Design Excellence Award.