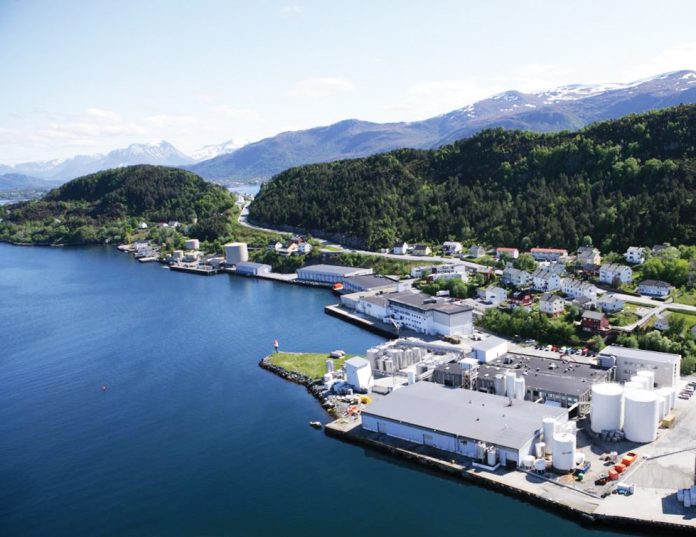 EPAX's lengthy history, quality products and clinical research results help the marine omega-3 supplier swim ahead of the pack
by Natalie Moore
There's something to be said about standing the test of time. It's truly a testament to quality and integrity. It's also an accomplishment a scant few businesses today can claim — however, EPAX AS has managed to do just that. The leading global supplier of marine-based eicosapentaenoic acid (EPA) and docosahexaenoic acid (DHA) omega-3 fatty acid concentrates has a corporate legacy dating back 170 years. Yet, there's nothing old-fashioned about them. In fact, over the decades EPAX AS' experiences have only boosted its expertise in the fish oil industry and strengthened its commitment to excellence.
Originally named JC Martens when the Norwegian company was founded in 1838, it primarily traded in dried fish and cod liver oil. Now, EPAX AS products are distributed worldwide to the business-to-business ingredient market under the brand name EPAX.
Brand longevity
So, how has the brand survived and thrived for so long? "What basically makes EPAX different from most competitors is the fact that we are exclusively and fully devoted to the manufacturing of omega-3 ingredients," says Baldur Hjaltason, business development manager. "These ingredients are highly pure omega-3 concentrates. We also exclusively focus on condition-specific products, such as formulas with different EPA and DHA ratios, and concentrations targeting specific health problems."
How the products help
The EPAX lineup consists of 10 unique formulations of EPA and DHA, as well as a combination of EPA- and DHA-rich products, all available in triglycerides (TG) or ethyl esters (EE). Each one is especially designed to address a particular aspect of well-being including cognitive, cardiovascular, eye, joint, mood and mind, pre- and postnatal health, to proper inflammatory response.
For example, EPAX 1050 TG, which has a high concentration of DHA, is essential to brain functions and provides nutritional support against age-related cognitive decline, such as poor memory and dementia. EPAX 6000 TG has a highly concentrated EPA and DHA ratio that helps keep cholesterol levels in check for optimal heart health. For individuals suffering from chronic inflammation, EPAX 4020 TG with a 2:1 ratio of EPA and DHA, has a potent anti-inflammatory effect and is tailored to restore the body's omega-6 and omega-3 balance.
Not only is EPAX the industry leader in developing goods that address modern health concerns, proven research results also set the business apart from the competition. "Our company is the most clinically documented omega-3 ingredient with over 100 published clinical studies," says Gunilla Traberg, head of marketing. These studies have substantiated various EPAX indication-specific items, which allows for easier positioning within the marketplace and more effective discussions with customers.
Natural evolution
As IHR magazine currently celebrates our 10-year anniversary — a mere blip on the evolutionary radar compared to the epic EPAX timeline, so far — we're curious to find out what this historic giant has witnessed during the previous 10 years, alone. "In the last decade, the omega-3 market has grown phenomenally with a double-digit growth annually," says Hjaltason.
"Today approximately 100,000 metric tons are sold for human consumption. Omega-3 ingredients are used in functional food, for supplements, as medical food ingredients and most recently as prescription pharmaceuticals. We are also seeing new delivery forms such as powders and emulsions, and new sources of EPA and DHA coming from marine phospholipids, as well as from algae and genetically modified crops."
Traberg also mentions that, "Globally increased consumer awareness, credibility and interest in the benefits of omega-3 fatty acids continue to drive the demand for omega-3." In addition, she says it so happens that "the number of scientific papers published correlates positively with the sales of omega-3 supplements. This consumer awareness has put focus more on not only the amount of EPA and DHA, yet also on purity, quality and environmental factors such as the sustainability and traceability of the crude oil sources."
Environmental importance
Since the production's raw materials come directly from the sea, respect for marine ecosystems has always remained an important aspect of business, so the company has undertaken a number of initiatives. "To EPAX, caring for the environment is paramount and we have our own environmental stewardship policy called EPAX EcoVision. This program is based on sustainable sourcing, traceable origin and accountable operations," says Traberg. "Sustainable sourcing is based on supplies from Friends of the Sea-certified fisheries in Peru, as well as our own certification. The raw material that we use is traceable — time and place of catch — which in turn is a condition for sustainability. Our manufacturing is certified eco-friendly through ISO 14001 certification for environmental safety management, we practice full material accounting at the manufacturing plant, recycling and zero-waste practices, as well as systems for reduced energy use, etc."
Introducing new products
There's a lot to look forward to as EPAX announces several remarkable products in the works, which will soon hit store shelves and should really appeal to consumers. "In the coming month, EPAX will be expanding the product line with the launch of a new high-concentrate ingredient called EPAX 7000 EE. The minimum value of the EPA and DHA fatty acids are 360 mg/g and 240 mg/g respectively, and a minimum total omega-3 content of 700 mg/g. This product will have the highest content of EPA and DHA in our 2:1 ratio product range," shares Hjaltason. "Furthermore, a new condition-specific product concept will be launched this autumn. This is a product designed for physically active people, from the weekend sport enthusiast to the trained competitive athlete. The product behind the science in this sports nutrition concept is EPAX 4020 TG. Next year, EPAX is planning to launch a high-DHA fatty acids product. This will be a stand-alone product and will also serve as an extension of our popular EPAX 1050 TG formula which contains as a minimum 430 mg/g of DHA.
This product will be ideal for those [retailers] considering launching pre- and postnatal nutrition products," he reveals.
Always on the edge of innovation, some interesting (perhaps even science-fiction-sounding) new research has come about in the omega-3 fish oil category that EPAX is excited about. "The science behind how omega-3 fatty acids work in our body has advanced greatly in the last few years," says Hjaltason. "The most exciting science is how omega-3 fatty acids regulate our gene expression. This opens new doors in relation to handling complex symptoms like metabolic syndrome. Also, recent work shows that omega-3 fatty acids can slow down the shortening of the telomeres — they sit at the end of the chromosomes, acting like a cap on the end protecting them from damage. They contain the vital DNA information needed for cellular replication. Every time a cell divides the length of the telomeres become shorter. In the end, the cell cannot divide and it dies. If we can slow down this process, we also slow down the aging process and improve quality of life."
With such a long-standing legacy, yet a constant focus on the future, EPAX has truly established itself as an overall omega-3 expert. Whatever your needs, with its reputable background EPAX is confident it can help you. "Through our global network of distributors and agents we can service customers with local market knowledge and opportunities, as well as assist with regulatory documentation to ensure regulatory compliance on both international and national levels," adds Traberg. "Our storage facilities are strategically located in key locations around the world to offer shorter lead times and on-time deliveries."
Catch of the Day
Tips from EPAX on what retailers should expect from omega-3 fish oils and manufacturers:
High-quality oils from a reputable brand that adheres to strict manufacturing standards for pollutants and other parameters
Concentrated oils to ensure sufficient intake of EPA and DHA fatty acids
Brands that have documented results
Brands that conform to traceable and sustainable raw material sourcing