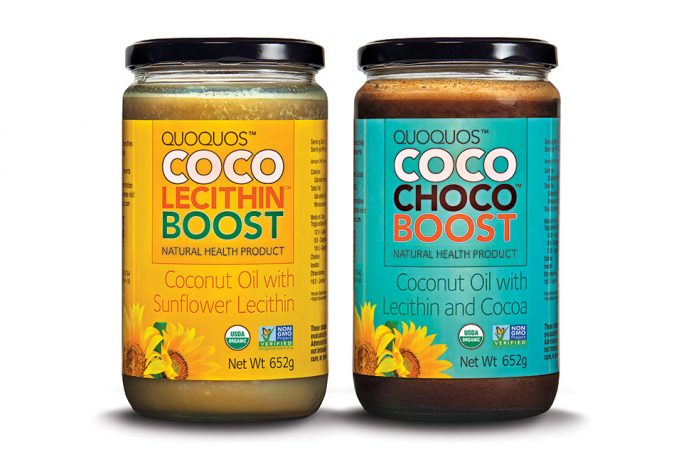 Trial and error helped Kyrill Leutsch craft Quoquos, a natural health product that sets a new standard for coconut oil.
By Kavita Sabharwal
Kyrill Leutsch had 20 years of experience in the fields of marketing and advertising in the pharmaceutical business where he developed an expertise to market products to both doctors and consumers. That "savoir faire" was the catalyst to creating Quoquos.
Leutsch has always had an interest in natural health products. He first read about the benefits of consuming virgin coconut oil to supplement his diet a few years ago, on the recommendations of friends who tried it. He also knew many athletes and bodybuilders often consumed it for an energy boost. Leutsch, who suffered from a sluggish thyroid, was looking for a product to provide him with natural lasting fuel.
"I had been trying to find more natural ways to enhance my health," he says. "I wanted to try coconut oil and see if I take it on a daily basis, whether I will feel better and it will give me energy."
After taking two to three tablespoons per day, he found plain coconut oil was difficult to swallow and hard to digest, causing nausea. He found the solution in organic sunflower lecithin, an emulsifier, and experimented with it. He started by adding a teaspoon of the sunflower lecithin into his coconut oil in a shake and he noticed an immediate change in the way his body reacted to the oil.
"I didn't feel the same reaction of nausea, and I liked the way it emulsified in shakes and other things, it was like the oil disappeared," he says.
"I used it for myself only until I realized that this is really working and is something that could work for other people too, especially when this was a common problem for a lot of people, how to consume this oil more as a supplement," he says. "I had friends trying it out, they could suddenly digest the oil much better, too; they did not have any reactions after that."
At the beginning of 2013, Leutsch started Aecetia Inc., and began working on his certification, machinery, manufacturing, labeling and preparing the product to be sold directly to consumers, a process made easier by his pharmaceutical marketing background.
"At one point, I realized that this could be something that could solve a lot of people's problems. There are so many people who are into coconut oil. It's just beginning," says Leutsch. "There is government-funded research being done in the U.S. on coconut oil's relation to Alzheimer's disease. The University of South Florida is doing a clinical study about coconut oil dramatically helping Alzheimer's patients, in cases where general medicine is no longer working and they can't find any other solutions. They've already seen that it's helped improve a lot of the patients."
The research study is being conducted at the USF Health Byrd Alzheimer's Institute on 65 individuals with mild to moderate Alzheimer's to measure the effects of coconut oil on the disease. Leutsch believes that with more research studies on the topic, coconut oil will lose any bad reputation it has and become a mainstream natural health product.
"People say it gives you high cholesterol, it's dangerous for your heart. But again, I didn't take the information that people say online, I just tested it on myself," he says. "My blood pressure went down, when it was always on a higher level. My cholesterol level was even lower than before. So there are a lot of misconceptions out there where they think taking this much oil is artery-clogging; I personally think it's just not true." In addition, a recent test indicated Leutsch's sluggish thyroid is now operating at a normal level without the use of thyroid treatments or supplements, which he attributes to his regular coconut oil consumption.
Although he is not the only manufacturer of organic coconut oil as a natural health product, he is the only one who provided a solution for it to be suitable for use on a daily basis. In addition to having a booth at the Natural Products Expo West 2014 in Anaheim, Leutsch will be promoting his product at CHFA West in Vancouver (booth 1850) and Natural Products Expo East in Baltimore later this year.
"For our first time at the Natural Products Expo West this year, we had a tremendous response from retailers, distributors, from nearly everybody that came by and actually tried the product applied in a mango smoothie or hot chocolate and were amazed at how good it tasted and how easy to swallow it was. You can hardly tell that there's oil in there," says Leutsch. The oil has other uses as well, such as for cooking, as the lecithin lends it non-stick properties.
There has been a lot of interest in Quoquos products. Leutsch, who currently represents the brand on his own with the help of long time natural and organic products veteran Michael Theodor, intends on full distribution and plans to have Quoquos stocked in as many stores as possible. With that, he will do in-store sampling and retailer training, which Leutsch believes is required for retailers to understand the product and explain its use to customers.
Leutsch has sold two batches of Quoquos since he started producing in October – a total of 4,000 jars. About one third of customers are repeat buyers, though Leutsch does not have a sales forecast due to the difficulty involved with forecasting sales for a new product. After about a year, he says, he can start predicting sales and where they will go.
Quoquos is available in two flavours: Coco Lecithin Boost and Coco Choco Boost, while a third flavour is currently in development. Quoquos is sold on the company's website, Quoquos.com, as well as on Amazon.com and should be available through a Canadian distributor by summer 2014.