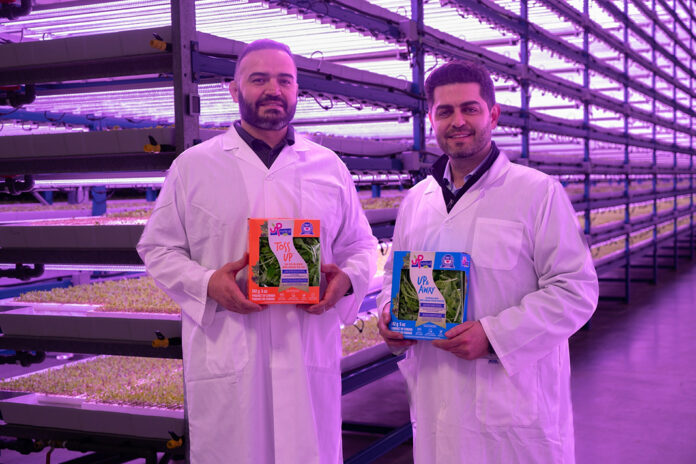 After nearly ten years of research and development, UP Vertical Farms™ officially started operating Canada's first unmanned vertical farm, producing sustainably grown, pesticide-free, pollution-free baby lettuce, with an output 350 times that of traditional field vegetables.
In order to revolutionize Canadian agriculture And to provide consumers with healthier, greener local food options, UP's crisp and flavorful prepackaged leafy green salad mix will be available at select grocery stores in Western Canada this spring.
In an industry grappling with challenges such as high food costs, climate change, labuor shortages and food contamination, traditional farming methods are proving unsustainable, especially as the population grows. UP Vertical Farms aims to provide viable, locally grown solutions to many of these industry challenges by employing state-of-the-art high-density farming techniques that use 99% less land, 99% less water, and 99% less fertilizer, No pesticides are used, and no herbicides or fungicides are consumed. Using recycled carbon dioxide and proprietary lighting technology, the leafy greens are refrigerated for over 22 days while developing a custom Brix and flavor profile. Since UP's vegetables have never been touched by human hands and undergo rigorous food safety testing, the products are ready to eat right out of the box.
Bahram Rashti, co-founder of UP Vertical, said: "We are proud to help Canada address its food security challenges by providing healthier, more sustainable local farming solutions that reduce farming's environmental impact and reduce Canadian consumers' imports from the U.S. Dependence on the product. Farm." "In the coming months, as our sales in Western Canada continue to grow, more Canadians will be able to enjoy our fresh and delicious leaf salads. "
From arugula and kale to romaine and butter lettuce, delicious and nutritious, UP's ready-to-eat baby salads are versatile and perfect for salads, sandwiches, pasta, soups, and stir-fries. Current mix lines include POWER UP™ – a potent green mix that takes salads to the next level, UP & AWAY™ – a sweet and colorful savory spring salad mix, TOSS UP™ – a chef-inspired 50/ 50 Mixed Red and Green Lettuces, LIVEN UP™ – A selection of savory and savory arugula, CHOP UP™ – Savory and sweet side dishes and STAND UP™ – Crisp and fresh baby lettuces.
UP Vertical Farms expects to produce approximately 2 million pounds or 6.3 million bags of vegetables annually, and also has the unique ability to fully customize packaging to meet the unique needs of retailers and restaurants. As plants grow in an automated timeframe of 13 to 21 days, mixes can be customized and planted immediately to keep up with ongoing trends, enhancing the quality and consistency that only UP can offer its partners.
"We firmly believe that vertical farming is critical to the future of farming, and we are excited to be the first in Canada as the only hands-free vertical farm in the country," added Rashti. "We believe the expansion of our business from here will only 'up' as we strive to provide healthier food to more Canadians across the country in a more sustainable manner."