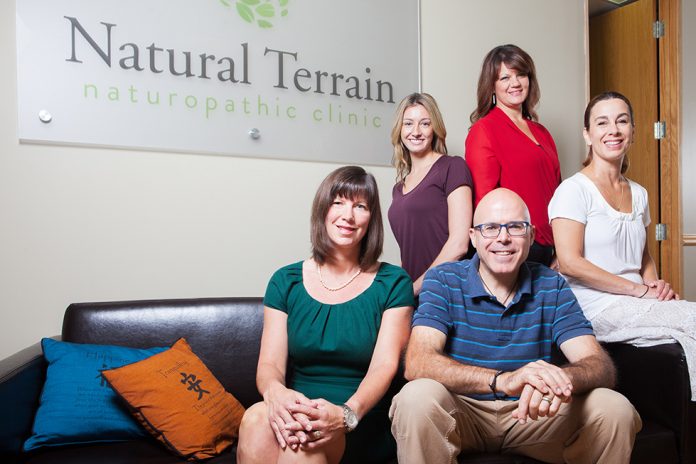 To move a business can be a risky thing; even a few blocks' difference can be a deal-breaker for some clients. But Natural Terrain Naturopathic Clinic had no trouble relocating from Fort McMurray to Edmonton.
"It was a smart business move. A lot of our patients followed us; most people from Fort McMurray come to Edmonton several times a year, so we started with pretty much a full schedule," says Dr. Chris Bjorndal, who co-owns the clinic with her husband, Dr. Michael Mason-Wood.
Dr. Bjorndal initially encountered naturopathic medicine when she developed debilitating depression, anxiety and an eating disorder as an undergraduate at UBC in the late 1980s. After a suicide attempt that left her with permanent health problems, she became a patient of Dr. Abram Hoffer, founder of the Canadian Society of Orthomolecular Medicine, and began a long healing process that eventually led her to leave a senior position in the financial world to follow her interest in naturopathy.
Dr. Bjorndal met Dr. Mason-Wood at the Canadian College of Naturopathic Medicine in Toronto. "This was a career change for both of us; we were among the very few people who were over the age of 30," she says. Dr. Mason-Wood opened a clinic in Whitehorse in 2003, and in 2005, Dr. Bjorndal obtained her license in April, gave birth to a child in May and turned 40 in June. The new parents relocated to Fort McMurray that same year to take over an existing clinic from a colleague who was moving away.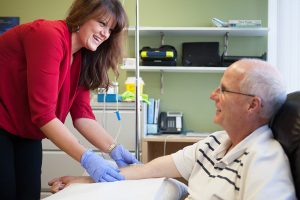 "I feel like I'm caught between two generations: Gloria Steinem and Leave it to Beaver," Dr. Bjorndal says. "Recognizing that I'm not Superwoman from Perfectionville has been the biggest part of my healing. The beauty of my husband and I owning the clinic together was that we could divide up the week [between shared work and childcare duties]. When my son got to grade 1, I had a whole lot more time on my hands."
In 2009, they made the move to Edmonton, where they were associates for a while and in 2012, reopened as Natural Terrain Naturopathic Clinic.
The 950-square-foot clinic features three doctor's offices and one IV room. There are currently four naturopathic doctors working at Natural Terrain, each with a different focus in naturopathic medicine, and three support staff.
Although Dr. Bjorndal has many areas of interest in health, she focuses on balancing hormones for women to promote fertility and overall health, and also on assisting patients who are experiencing mental illness. Her interest in orthomolecular medicine—which she describes as "making sure you're meeting your body's nutrition requirements"—has not diminished.
"I think some clinicians have a misconception that it's just mega-dosing with megavitamins," she says.
Dr. Mason-Wood has complementary skills. Like his wife, he works with hormone balancing. He also treats autism, and is interested in injection therapies for pain management, including prolotherapy and PRP (Platelet Rich Plasma).
"Michael is First Nation, and that's where his roots are: the herbal botanicals, using the things in nature to heal," Dr. Bjorndal says. "Michael is incredible in his knowledge of plants… and also in his passion for the environment."
There are two other practitioners at the clinic—Dr. Candace Haarsma, who focuses on general and mental health, and Dr. Lorraine McCarthy, who has a special interest in pediatrics, women's health and geriatrics.
"I think we are well rounded," says Dr. Bjorndal. Apparently, clients think so too, as Natural Terrain is very busy. At the time this article was written, Dr. Bjorndal had no plans to take on any new patients for the next four months.
"I have about 30 people on the wait list, and I have had since about 2012."
Natural Terrain's key demographic consists of women between the ages of 25 to 50. Dr. Bjorndal says she believes the clinic sets itself apart with "the level of service that we provide from the minute you walk in the door and are greeted by our front staff, and the level of care we bring as practitioners."
She names cancer treatment as an area outside the clinic's normal scope. "I think that cancer is much more than a physical condition; you have to address all four aspects: mental, emotional, physical and spiritual. I don't know many clinicians who are focusing on the spiritual aspect," she says, adding that she has developed a course on how to work with patients' spiritual and emotional aspects.
Dr. Bjorndal says naturopathic medicine is now gaining more awareness as people are seeking alternative ways of addressing their health concerns. She also notices that more conventional medicine practitioners, especially the recent graduates, are now open to exploring alternative medicine.
"I think that our profession still has a recognition problem, there are still people who don't know what we do," she says. "I think that more awareness needs to be generated and I think that's what is happening now with the help of the Canadian Association of Naturopathic Doctors."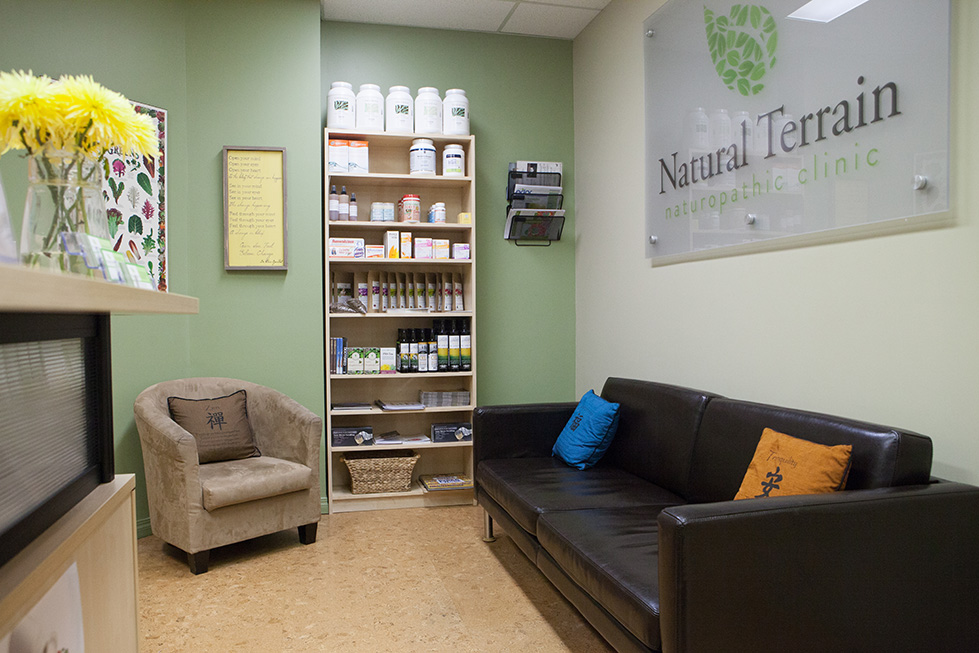 Natural Terrain has a strong promotional advantage in Dr. Bjorndal's former career as head of marketing for a division of the global financial giant HSBC.
"The skills of marketing are translatable across any business," she says. "You must have a product, some type of promotion, placement and positioning: the four Ps of marketing."
Dr. Bjorndal explains that since her story and profession is the message, she promotes the clinic through writing. This includes a monthly newsletter, her own blog, articles in a local newspaper and work on a forthcoming book. Because she stands by the saying, "you have to be well known in your own backyard," Dr. Bjorndal and her colleagues appear regularly on local television, and she advocates networking with other types of health professionals, giving talks and advertising in local papers. Natural Terrain also has a strong presence on Twitter, Facebook and most recently, Instagram.
But "the biggest thing," Dr. Bjorndal says, is that "with every patient, I give them two things: I give them hope, and I give them an explanation of what I'm going to be doing next time, so they know there's a next step. The goal is not to be seeing people every week; I want to get you better."