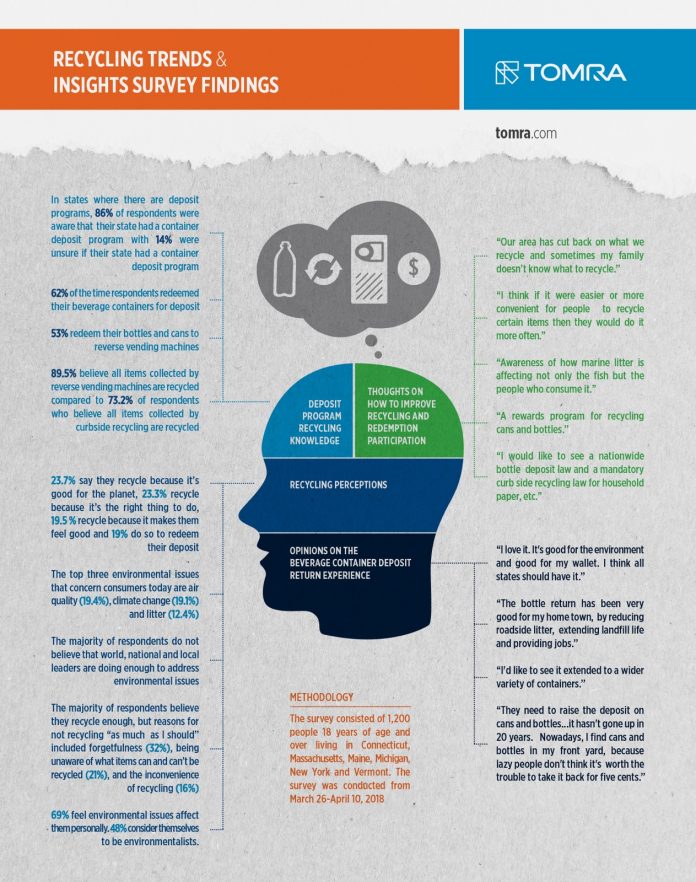 New survey findings reveal fascinating insights about consumer attitudes toward recycling. TOMRA , a leading manufacturer of reverse vending solutions for collecting, reusing and recycling used cans and bottles, has released findings from its first Recycling Trends and Insights Survey, conducted by Qualtrics. The survey of 1,200 people in six states that have bottle bills was commissioned to determine how, what and where people recycle as well as their concerns about environmental issues.
The survey revealed that the number-one material to recycle is used beverage containers (recycled by 17% of respondents) followed by plastics (16%), cardboard (15%), glass (15%) then paper (14%). Other key findings revealed that 62 percent of the time respondents redeemed their beverage containers for a deposit.
The survey also explored respondents' understanding of container deposit systems as well as their concerns about environmental issues. Below are those key findings:
High deposit knowledge, but wishful recycling
The survey found that there was a near-even split on where consumers redeem their containers, between reverse vending machines/bottle redemption centers and home/curbside pick-up. 53 percent of respondents redeem their bottles and cans to reverse vending machines.
89.5 percent believe all items collected by reverse vending machines are recycled compared to 73.2 percent of respondents who believe all items collected by curbside recycling are recycled. In reality, 100 percent of containers redeemed at reverse vending machines are recycled into new packaging compared to approximately 50 percent of the containers collected through single-stream curbside.
In states where there are deposit programs, 86 percent of respondents were aware that their state had a container deposit program, with 14 percent of respondents unsure if their state had a container deposit program.
Making a difference, not making money, is key driver
23.7 percent say they recycle because it's good for the planet, 23.3 percent recycle because it's the right thing to do, 19.5 percent recycle because it makes them feel good and 19 percent do so to redeem their deposit.
The top three environmental issues that concern consumers today are air quality (19.4%), climate change (19.1%) and litter (12.4%)
When it comes to addressing environmental issues, 60 percent of respondents do not believe that world leaders are doing enough and 62 percent do not believe national leaders are doing enough.
69 percent of respondents feel that environmental issues affect them personally, but only 48 percent consider themselves to be environmentalists.
The majority of respondents believe they recycle enough, but the main reason for not recycling "as much as I should" was forgetfulness (32%), far ahead of being unaware of what items can and can't be recycled (21%), and the inconvenience of recycling (16%). Only 0.02 percent of respondents said they don't care about recycling.
"These survey findings are helpful to TOMRA as we consider ways to share with consumers the many benefits of clean deposit-return recycling," said Chuck Riegle, SVP Government Affairs, TOMRA Systems ASA. "Consumers are sharing with us that they believe recycling serves greater social purposes, and the incentives to redeem containers are a successful motivator."
To view the Infographic.