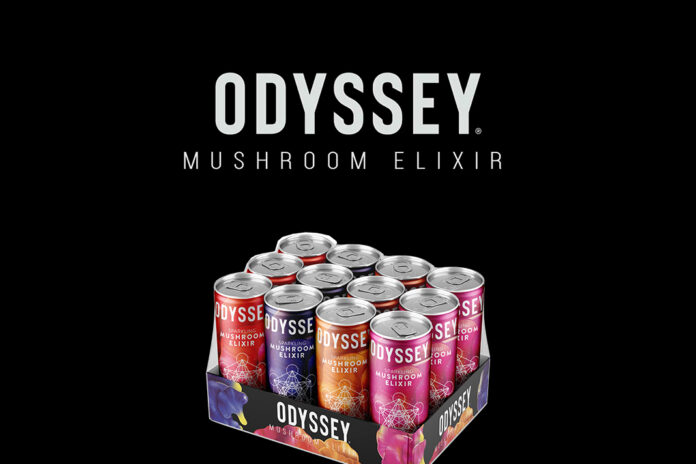 Odyssey Wellness, the makers of Odyssey Elixir, the world's first sparkling energy drink infused with functional mushrooms, has raised $6.3M in Series A capital, bringing the company's total funding since inception to $8.3M. The investment will be used to accelerate Odyssey's growth across all distribution channels.
Odyssey's unique beverage is disrupting the energy drink market, meeting the demands of a growing global trend for healthier drink options. The drink is infused with 2500mg of fruiting body extracts from functional mushrooms (Cordyceps and Lion's Mane) along with L-Theanine and Panax Ginseng, delivering the benefits of nootropics, adaptogens, and Beta glucans. The drink promotes brain performance, boosts energy, focus, and mood, without the notorious caffeine crash, artificial sweeteners, added sugar, or other ingredients associated with traditional energy drinks.
"We appreciate the infusion of capital and trust from our investors who bring incredible expertise and will be valuable strategic partners as we continue to build this brand. We believe Odyssey is just beginning to seize the opportunity in front of us as a differentiator in the category that will propel our growth," said Scott Frohman, Founder and CEO of Odyssey.
The market for Odyssey is driven by a growing number of health-conscious consumers, including Gen Z and millennial creatives, artists, techies, athletes, and others who seek healthier drink alternatives. The company targets the convergence of the $86 billion energy drink and $118 billion functional beverage markets. Since its debut last year, Odyssey Elixir is now available at over 5,000 brick and mortar locations, including natural, conventional retailers, c-stores, upscale bars, restaurants, hotels, and music festivals.
"Odyssey is a purpose-driven company on a mission to upgrade people from their habitual caffeine crash, jitters and burnout to more sustainable energy. By utilizing the power of functional mushrooms and bringing them mainstream, we aspire to expand a growing population of conscious individuals that are more focused, more productive, and passionate about doing good, feeling good, and sharing those vibes with others," added Frohman.
With the latest capital infusion, Odyssey is well-positioned to expand its reach and offer consumers a healthier and more sustainable energy drink option.