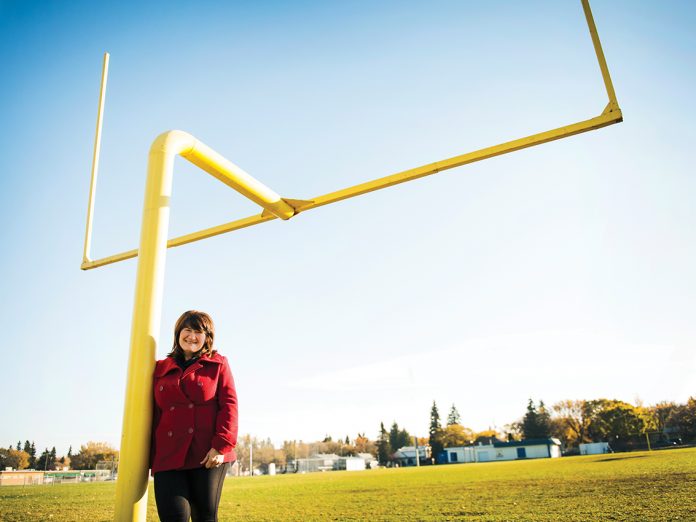 Lifelong passion & purpose
With a passion for healing that began in adolescence, Lovie Wesolowski-Spicer has become an icon as health retailer and athletic performance coach.
By Carol Crenna  •  Photography by Mandy Harding
When the late Phil Brunner from Albi Naturals made a trip to the Prairies to introduce products to a new health retailer who'd contacted him, he arrived at the door of a teenager's parents' house. He was told the girl he wanted to meet wasn't home from high school. He parked his Winnebago and tried not to look surprised as he waited for her, eyed closely by the cautious parents. 
That was in 1977 when, at 17, Lovie Wesolowski-Spicer took daring steps to realize her dream to open a health store, cold-calling suppliers whose products she'd tried and trusted. With a $21,000 bank loan co-signed by her parents and another $7,000 from brother Jules, the enterprising youngster opened Nature's Health Centre in Saskatoon's Grosvenor Park Centre, a mall concept never attempted in Canada before. It opened under a business model and bookkeeping system that she developed in her grade 12 business class which she still uses today. Spicer has become a health and performance-nutrition pioneer, establishing the store in the same location for 35 years. 
"I was fascinated by the human body at an early age, and asked for models or colouring books of the organs whenever I was offered a gift. Our family physician kept telling my parents about my affinity for healing, saying he conversed with me like a colleague when I was an adolescent," states Spicer. Her strengths remain in chemistry – choosing product ingredients that are most effective, regardless of brand – and in building relationships with customers by giving health consultations.
At the same time she opened Nature's Health Centre, Spicer became a sports nutrition coach, using her body-building brother as a guinea pig. She explains, "I felt, 'If I can help people who are sick, can you imagine what I could do with people who are well?'" His lean body mass grew so large that athletes wanted to know his secret. 
Spicer launched Performance Nutrition, a consulting company, and has worked with many famous athletes. She recounts notable names: Charles Servizio, in the Guinness Book of World Records for the most pushups (46,001 in 24 hours) was trained by her. Winnipeg Jets GM, Kevin Cheveldayoff has been a client since he played Juniors. Trainer-to-the-stars Grant Roberts, who trained Hilary Swank for Million Dollar Baby, was a customer at Spicer's store when he was 15, and was then coached by her. Marcia Kilgore, owner of Bliss New York Spa, who has clients including Julia Roberts, worked for Spicer and continued getting advice while opening her business. Spicer advised Olympic bobsledder Jamie Cruikshank, Olympic decathloner Winchester Johnson, and Superbike racer Brett McCormick. She's worked with NHL players Devin Setoguchi (Minnesota Wild) and Luke Schenn (Toronto Maple Leafs) since their teens. Agents asked Spicer to help increase the athletes' muscle-to-fat ratio, enabling them to play in the NHL.
In 2004, former Saskatoon Blades GM Brent McEwen (current scout for Los Angeles Kings) asked Spicer to work with the team. She recounts, "The team had been dead last even though they had Mike Green, Wacey Rabbit and Devin Setoguchi, who later became some of the NHL's highest paid players." She created individual off-season programs for 33 on-ice players and 28 prospects. As a result, in one off-season, the average muscle gain per player was 22 pounds, and speed or endurance gains were extraordinary. 
Now a Registered Nutritional Consultant (RNC), Certified Natural Health Practitioner (CNHP), and ISSA Specialist in Sports Nutrition, she lectures to national audiences. 
Spicer has fond memories of working with health industry legends. Orthomolecular pioneer Dr. Abram Hoffer and Order of Canada recipient and pediatric expert Dr. John Gerrard visited her often because their patients shopped her store. She was taught by icons Dr. Morton Walker, Dr. Bernard Jensen and Dr. Earl Mendell. She knew Udo Erasmus as a zoologist before he launched his product line and lectured at her store, and the late Charlie Fox, Kyolic's founder, was "a phenomenal storyteller" during his store lectures. 
Jack Gahler, a construction worker who sold supplements part-time, didn't have initial success with Spicer. "I didn't like the products he sold, so wouldn't buy them, and encouraged him to start a higher-end line. He did, and called it Natural Factors. Jack's fibre is woven into the structure of the industry; grandson Michael stays true to his grandfather's humbleness and integrity."
Spicer obtained a second business loan a decade ago when health products went mainstream –– her biggest-selling brand was introduced in the mall's supermarket. "I invested in introducing products that no other store had to regenerate the lost business. It worked." 
Today, in her 50s, Spicer continues coaching and managing the store every day and now greets third-generation customers. How does she keep going, even after raising eighteen-year-old twins? She concludes, "There was never any choice. I was brought to where I need to be. I still feel 17, having the same passion, and living by the same philosophies." Spicer has now committed to writing a book to "give back" to the hockey industry.
Spicer's sage advice:
• Hire up-and-coming experts. Spicer heads to the local university to find staff. Four staff members became naturopathic physicians during their employment. Biochemistry student, Jason Kindrachuk, worked at the store for years, and is now a Ph.D. researcher at National Institute of Allergy and Infectious Disease, Washington D.C.  
• Create environments to keep staff. She has never fired an employee and no one has left for reasons other than to advance their medical careers. (Some felt the responsibility to find a replacement when they left.) Their needs and limited hours available are respected; they're given unique opportunities to learn; they're treated like family Beckie Harris has been there for 22 years. 
• Align with health organizations. Patient-support organizations are realizing that research-backed dietary advice brings increased hope to those with a disease. It empowers them to participate in their healing. "Providing a local health society with specific nutrition and supplements that relieve symptoms offers huge potential for a store (or supplier) to get in on the ground floor." While on the provincial board of the MS Society, Spicer became the consulting expert, fielding all complementary medicine and nutritional questions. 
• Consider public profile. People of influence can become champions of your company. Public speakers in all sectors, who have incredible opportunities to influence audiences, often mention nutrition. "At a teachers' conference, in the middle of the keynote speaker's lecture to 2,500 people, he stopped and said, 'I have to share with all of you that you need to be taking omega-3s for these reasons… I take Ascenta.'" Immediately following, attendees purchased every bottle in Spicer's store.
• Don't dismiss any request. Seemingly unrelated sectors provide potential customers. Spicer has conducted health talks for a musicians' association about stress reduction; a mining company's miners about detoxification and sinus-cavity cleansing; and a violin players' organization discussing relief for muscle pain due to holding instruments for long periods. 
• Stay ahead of the curve to be seen as a leader, but not too far ahead. When the first omega-3 supplier tried to sell the new product to Spicer, she repeatedly refused. Spicer waited and watched the market. After the first reports by media validating its research, and disease-management organizations beginning to promote it – areas outside of the natural health industry Spicer suddenly placed a large order. "Surprised, they called and asked why the sudden change of mind. I said 'because the environment changed.' It must be fresh when the trend hits the marketplace." 
• Be a trend forecaster. Spicer analyzes cultural trends, searches websites like www.webmed.org for new compounds being researched, and keeps an eye on new specialty retailers for the latest trends. "Take an 'aerial' view of nutrition that's now a part of everyday everywhere school, restaurants, fitness, workplace wellness, retirement homes, vacation destinations…" Her picks for future trends: 
1. Tea will top sales. Since tea shops/public tea rooms are growing, increasing tea consumption, this will translate into a lucrative healthy tea product market. 
2. Yogurt makes resurgence. Frozen yogurt shops are returning; and similar to how juice bars inspired sales of greens and protein powder, superfood ingredients added to yogurt will spur supplement sales to "make your own." 
3. Weight loss will expand. "Diet products provide an opportunity for you to become consultants on the other necessary steps that should be taken for weight management when customers come into the store."
• Think collaboration, not competition. Spicer aligned herself with the departments of pharmacy and medicine at the University of Saskatchewan, and advises medical students there on complementary medicine. "Open communication has created mutual respect. If you consider that all disciplines are trying to help in their own way, no one gets defensive and everyone works together." 
• Recognize regulatory cycles. Spicer explains, "Ever since I began, there have been government regulation issues and products pulled from shelves. It doesn't have to impact the business." Within first years of business, fears from the U.S. that all supplements would be pulled from the market prompted her to include product availability-dependent back-out clauses in her leases. She advises not concentrating the business in one area, and focusing less on product hype and more on core customer needs.
At a Glance
Nature's Health Centre
Locations: One
Main Address: 48 Grosvenor Park Shopping Centre, Saskatoon
Phone: (306) 373-5322
Website: www.natureshealthcentre.com
Staff:  4
Top-Selling Products
Food: essential fats and oils, gluten-free alternative grains, gluten-free mixes (cookies, muffins, brownies)
Vitamins: foundation vitamins and minerals including vitamin C, vitamin B, magnesium, calcium, weight management products, athlete-focused products including sports nutrition and protein powders 
Personal: Fragrance-free, preservative-free, hypoallergenic shampoos, conditioners and skin ointments for specific health issues