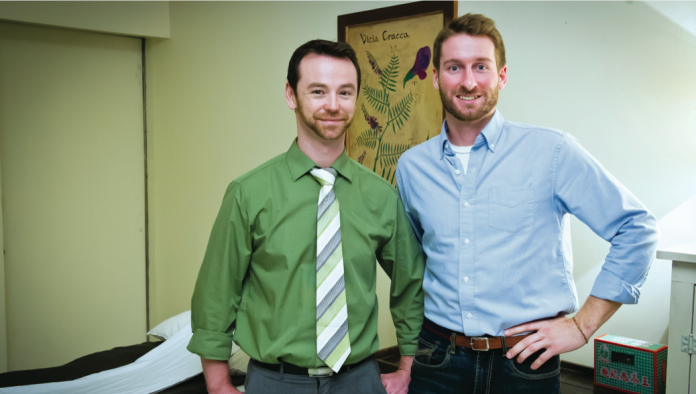 From the beginning of his practice in 2008, Dr. Chris Pickrell, ND, RH decided that he wanted to offer health services at rates that were affordable and accessible. He set out to build his practice in accordance with that plan and decided this by literally writing out the answer to the question: "What does integrity mean to me?" The answer to this question dictated how he would practice, and he made a personal commitment never to operate his business from a place of fear, but rather to only operate from a place where he felt comfortable and displayed integrity. At this point, Dr. Pickrell started his private practice and teamed up with an acupuncturist to create the community acupuncture clinic. He decided on the clinic location because he lived in the neighbourhood and the location matched his philosophy on healthcare. He knew other NDs had worked in that location and had moved on, but he was determined and became successful. The clinic consists of one large room from which the clinic offers all its services. He currently sees over 50 patients per week.
In 2012, Dr. Pickrell teamed up with two other clinics to continue his journey of providing affordable and accessible care. The result was the creation of a team of three NDs as a board of directors for The Community Clinic. Together, they share branding, philosophy of practice, resources, and even practitioners. The mandate of The Community Clinic remains to provide a better model of naturopathic care in Ontario, one that is more accessible to patients and also financially successful for the practitioners.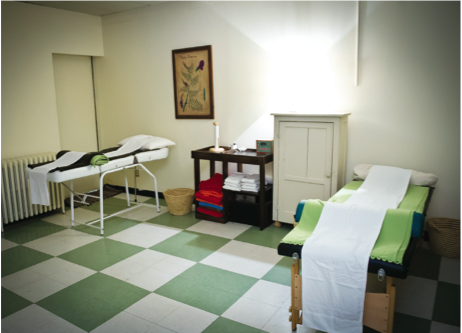 Dr. Pickrell offers naturopathic services, acupuncture, yoga, and educational talks. All of these fall under the umbrella of The Community Clinic Roncesvalles. To help further the clinic's goals, the business model moves towards the idea of "filling more spaces more often". In other words, the patient experience is similar to that of other conventional practitioners: combining scheduled visits with the flexibility of walk-in access. From a business perspective, filling space with a patient, even if it's a smaller source of revenue, is better than allowing the space to be fallow, obtaining no revenue at all.
Dr. Pickrell has found that less than 20% of Ontarians have the coverage or the income available for most The Community Clinic naturopathic care, so a large amount of the population cannot access services. From a business perspective, this means Roncesvalles the majority of the market is untapped. Regardless of the service they wish to access, Dr. Pickrell's patients always have the option of choosing to pay what matches them best. Every service has the option to "pay what you can" or "pay as you like". When asked if everyone simply chooses to pay the lower rate, Dr. Pickrell responds: "Not at all. Time and again the people who can afford it or have coverage pay on the higher end. Others have started on the lower rate and have chosen to move up to the higher rates as their situations changed." Approximately half of his patients access the half-rates and only a handful of people have elected not to pay at all, though everyone receives the option. A few people actually barter. When asked further about this, Dr. Pickrell recounts an experience where one of his patients asked if she could pay with chicken because her parents owned a chicken farm. He replied humorously: "I've been waiting my whole life for someone to pay me with a chicken."
Dr. Pickrell's educational talks include a group elimination diet exercise, as well as talks to understand digestion and absorption, with planned talks on fertility. All talks are free of charge. At any given time, 20% of the community acupuncture patients (which sees the higher volume of people) are also seeing him as an ND. Most yoga students also overlap with the other health services. Dr. Pickrell has everything set-up such that it is easy to flow between services, with no additional forms or fees to move between them and there are no late fees, cancellation fees, or additional first visit fees. Many of the patients he sees tend to use The Community Clinic services as their primary care access, opting to use the acupuncture clinic or walk-in clinic components for acute concerns.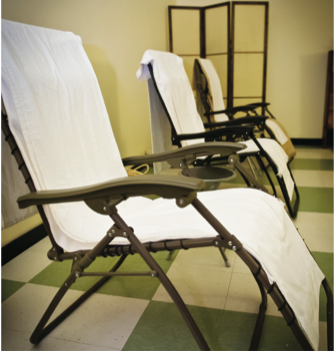 When asked about the brands and supplements he carries, Dr. Pickrell explains that he doesn't carry many supplements. Many of his patients see him for counselling. When further prescriptions are required, Dr. Pickrell relies on herbs and herbal tinctures.
Over time, he found that herbal tinctures were difficult for patients to purchase because they were so expensive. Going back to his plan to provide accessible and affordable services and using his expertise as a Registered Herbalist, Dr. Pickrell started a herbal tincture company called 'Perfect Herbs'. His herbal company not only supplies his patients, but he also sells these tinctures to other clinics, so that they too may benefit from the decreased cost. Perfect Herbs now carries over 120 individual tinctures and a dozen signature blends.
Dr. Pickrell has had surprisingly few obstacles in his career. His practice has built up smoothly, despite minimal marketing. He believes the quality of care is what has driven his current patient base, since the majority of his patients come from word-of-mouth referrals from existing patients. He is well-known in his community, and comes up as one of the first few hits on Google for the search "affordable ND". His average patient demographic is adults in the 24 to 44 age range, but also many over the age of 70. In general, they are people who want to see an ND and with a genuine desire to improve their health and live better. Commonly, Dr. Pickrell's patients tell him "thank you for offering this model of care, otherwise I wouldn't be able to afford it."
To date, The Community Clinic is needle-stick free, which is impressive considering more than 10,000 acupuncture needles have been inserted. Recently, Dr. Pickrell has teamed up with Dr. Jon Sheridan, ND, who now also offers his services at the clinic within the same framework. Together, they would like to thank the community for supporting the philosophy of accessibility. Their future directions include expanding the number of
practitioners who are using this model, and at some point perhaps opening the first walk-in naturopathic clinic. We at IHP wish these awe-inspiring practitioners continued success.
The Community Clinic Roncesvalles                                                                                      
Operating From The Herbal Clinic & Dispensary
409 Roncesvalles Ave. Toronto, ON  
Phone: 416-436-3715
Email: roncesvalles@thecommunityclinic.ca
Website: http://www.thecommunityclinic.ca