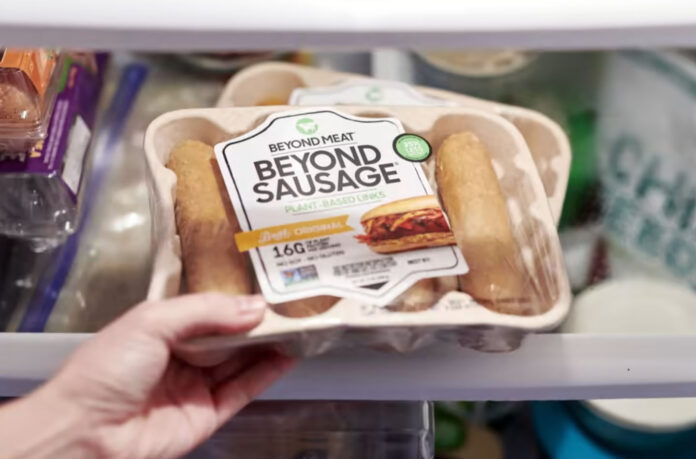 Plant-based meat sales in the UK grew by just 2.5% in the 36 weeks of early September, according to new data from market research firm Kantar, after a two-year surge. Revenue rose 40% in 2020 and 14% last year.
In the U.S., meanwhile, a tougher economic backdrop weighed on a market that began struggling last year. Sales fell 0.4% in the 32 weeks of early August, after falling 0.5% last year, according to data provider Spins. Sales rose 46% in 2020.
Spins senior manager Jeff Crumpton said "flexitarians" — people who eat only moderate amounts of meat — would think twice about plant-based meats as rising food prices lead to increased income pressures. "Their budget is difficult to make decisions about," he said.
Industry analysts say plant-based meats are particularly vulnerable to consumer pressure because they tend to sell for more than real meat.
In the U.S., a pound of plant-based Beyond Meat products that made a splash in New York in 2019 sold for $8.35 in June, while real ground beef was nearly half that price at $4.90.
Even before inflation and recession fears intensified this year, the plant-based meat market had lost some momentum as consumer enthusiasm for the products waned initially.
Companies such as Canadian meat group Maple Leaf Foods have warned that hopes of a quick resumption of sales are fading. The Canadian packaged meat group has expanded into plant-based alternatives, but last month announced it would shrink its plant-based business by 25 percent and cut spending on advertising and promotions.
Recently Chief Executive Michael McCain told analysts last month that while the company has built a plant-based meat business model that assumes fundamental changes in consumer behaviour, "these transformative results did not materialize."
Shares of Beyond Meat have fallen to less than a tenth of their 2019 peak, and the company has cut its revenue forecast. The group said it would cut about 4% of its 1,400 staff and cut its capital spending guidance to $80 million from $136 million in 2021.
"We are now seeing plant-based meat producers, including Beyond Meat, adjusting their cost structures to preserve liquidity and weather this weak macro period," said Arun Sundaram, an analyst at investment research firm CFRA. These include layoffs and deliberate delays in capital projects.
While shoppers continue to demand more sustainable options, "success in this category is not inevitable," said Carlotte Lucas, corporate engagement manager at the Good Food Institute Europe, an alternative protein industry lobby group.
"Investment is needed to make it attractive and affordable to consumers," she added.
Maple Leaf is still betting that the plant-based meat market can grow 10% to 15% a year once inflation eases.
Jessica Moulton, a senior partner at McKinsey in London, said there are reasons to be optimistic about the market's long-term prospects. "Food is generally a very stable place". The massive increase in herbal products we've seen over the past few years is very unusual," she said.
"The rate of change has decreased, but we think there has been a fundamental change in how sticky eating is done."
Previously published by the financial post