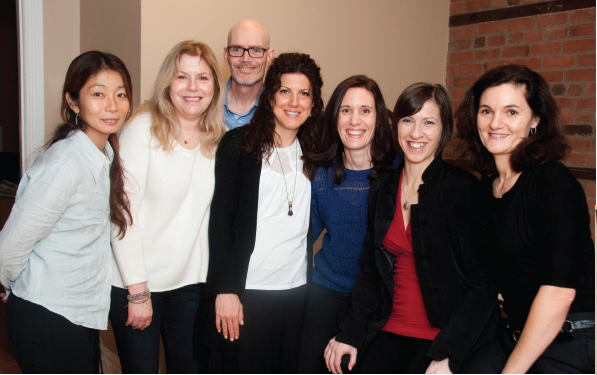 We at IHP are pleased to introduce the Harmony Health Centre, a beautiful multi-disciplinary clinic providing high-quality alternative healthcare options. Harmony Health Centre is located in Westmount, Quebec, where Naturopathic Doctors are not currently regulated. As a result, they have faced unique challenges and have developed creative solutions to work with their community. The clinic is run by two experienced Naturopathic Doctors, Ilana Block, ND and Orna Villazan, ND. Dr. Block and Dr. Villazan met in 2005 and together founded Harmony Health Centre with the dream of providing excellent patient care. They have a general family practice, and they see a lot of gastrointestinal concerns, weight concerns, women's health and fertility, and mental health concerns. These talented doctors are now managing one of the few integrative clinics in Quebec!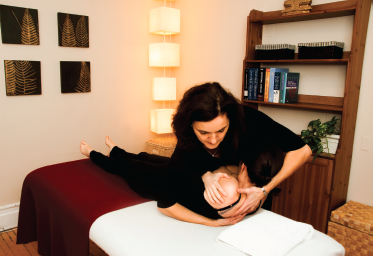 The clinic has a storefront location and the zen atmosphere helps to relieve stress from the moment patients walk in. The facility has four beautiful treatment rooms and each ND sees over 20 patient visits per week. All of the clinic operations were developed with the patient experience as the top priority, where patients can come in early, have a tea, read, relax, and if desired, see a couple of practitioners on the same day. The clinic embodies a holistic healthpromoting environment. The majority of the practitioners at the clinic are fluent in both French and English. The clinic has extended hours in evenings and on weekends (they are open seven days a week) and they are fully accessible by public transit. The marketing strategies they use include a strong online presence through their website and Facebook, and local information sessions they host for the public.
Dr. Block and Dr. Villazan were trained and are licensed in the province of Ontario (as out of province practitioners). In Quebec, there are no regulations for naturopathic medicine and without regulation, the scope of practice of Naturopathic Doctors can be quite limited. Naturopathic Medicine is currently very confusing for the average person seeking care, which makes educating the public challenging, but imperative. In Quebec, there are numerous challenges that NDs in regulated provinces do not face. From our understanding, there are no laws overseeing the practice of naturopathic medicine, including a description or regulation for what NDs are able to do. As a result, NDs, like other unregulated practitioners, are faced with the concept that they can't practice what is considered medicine without a license. If you are not licensed as a medical doctor, you are limited in your practice of medicine. For example, the NDs do not have the authority to make a diagnosis, to perform venipuncture or intramuscular injections, to perform gynecological exams, or to perform acupuncture. As a result, the services and care that these doctors are able to provide has to be of utmost quality to balance out the regulatory limitations. They work together as a team, provide holistic care, and inter-refer to other health care practitioners.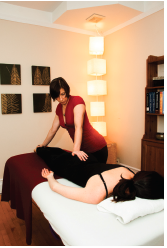 Another limitation these NDs face is that there are approximately 5500 individuals practicing as natural therapists in Quebec. There are currently 15 Naturopathic Doctors in the province who are licensed from a regulated jurisdiction. Insurance companies do not make a distinction between licensed NDs and those who have done a few weekend courses. Since 1992, the QANM (Quebec Association of Naturopathic Medicine) has been working on behalf of the profession, attempting to get a law in place that would protect and recognize a full scope of practice for the ND as well as protecting the public. Without over-stepping their bounds or stepping on anyone's toes, Dr. Block and Dr. Villazan have developed functioning relationships with many medical doctors and other health practitioners. This has helped them overcome some of the regulatory limitations by utilizing these other practitioners as part of their referral base, thus allowing their patients to access the care they need.
Most of the patients at the clinic come from word-of-mouth referrals. Patients see any practitioner that they originate contact with and then usually get referred appropriately to other practitioners. The other opportunity that patients have to meet other practitioners come from group workshops that are conducted at the clinic, including workshops in women's care or a versatile session called "Conversations on Health," where multiple practitioners discuss pain management, stress relief, depression, anxiety, and other conditions. These sessions are free to the public. The clinic also sees many referrals from outside the clinic, including from integrative medical doctors, personal trainers, and others such as psychologists.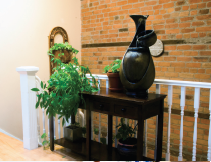 Harmony Health Centre carries numerous reputable brands in their dispensary, including AOR, Metagenics, Seroyal, NFH, NaturePharm, St-Francis Herb Farm, and Vitazan. They carry tinctures from Mediherb and St-Francis and homeopathics from UNDA, Boiron, Pascoe, and Heel. They utilize labs from Gamma-Dynacare, Genova, Metametrics, Doctor's Data, and Rocky Mountain Analytical. Based on their patient base, the most commonly run labs are food sensitivity tests, parasitology or digestive analysis, and heavy metal testing.
When asked what messages they would like to provide for other doctors, Dr. Block says: "Come to Quebec! The more NDs there are, the better it will be. Despite the challenges, there is an exciting shift occurring in integrative medicine in the province." Harmony Health Centre is a dynamic work environment and they are always looking to add new members to their team. Both Dr. Block and Dr. Villazan believe there is a strong need to increase the number of NDs in Quebec to better offer quality health care options to Quebecers as well as to obtain more visibility and public awareness.