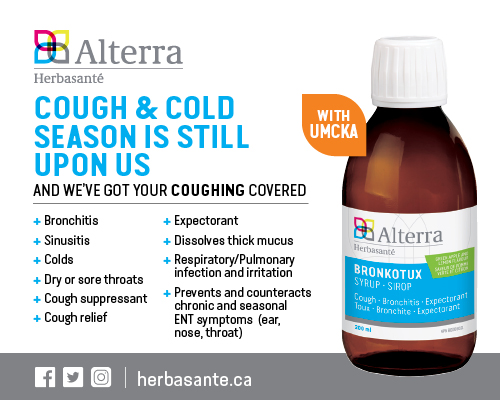 Herbasante's Bronkotux syrup is an effective, fast-acting formula for winter maladies, combining 6 medicinal plants with a long history of effective use
The winter season tends to bring about the spread of cold and flu and thus compromised immunity. We are more likely to see the prevalence of bronchitis, wet or dry cough, sinusitis and sinus congestion, cold, flu, rhinitis, ear infections and throat infections.
Herbasante's Bronkotux syrup is an effective, fast-acting formula for these winter maladies, combining 6 medicinal plants with a long history of effective use.
Bronkotux syrup has been demonstrated to:
Work effectively in soothing cough, helping with the flow of bronchial secretions, and acute or chronic bronchitis, acting as an expectorant to drain and clear the lungs of mucous
Be effective in pulmonary disease and help to prevent and even treat lung complications arising from Ear, Nose, Throat and flu
Help to reduce the use of inhalers for asthmatic patients
Elicit an antibiotic-type response without the risk that comes along with conventional antibiotics and antibiotic resistance
The combination of phytotherapeutic components in Bronkotux restores the fluidity and elasticity of bronchial mucus properties required for expectoration and ridding the body of waste and mucous.
Bronchial epithelium will regain its ability to secrete a normal mucosal protective film that will no longer inhibit ciliary cleansing movements which is the reflex of a disappearing cough. In addition, without being an antipyretic (substance used to prevent or reduce fever) this herbal preparation reduces the effect of events related to elevated body temperature (hyperthermia) and prevents infections from becoming more severe.
One of the key ingredients in the Bronkotux formula is Umcka/Pelargonium, a most versatile herb that has many therapeutic properties. The protective effect of Umcka/Pelargonium contained in the syrup aids in the following:
Clinical uses focus on:
Respiratory ailments
Bronchitis
Sinusitis
Pharyngotonsillitis
Colds
Flu
Antibacterial
Antiviral
Immunomodulatin
Extract of Pelargonium sidoides for acute respiratory tract infections.
Here's how the unique ingredients in Bronkotunx syrup work together to help prevent and treat illness :
Umcka: In in-vitro studies, Umcka proved to be effective against 3 gram positive bacteria including: Staphylococcus aureus, Streptococcus pneumonia, Streptococcus beta–hemolytic. Also helps with wheezing and rattling in the chest during respiratory infections. Assists with difficulty breathing, and helps to clear chronic mucous secretions and even chest pain when coughing.
Iceland moss : Relieves dry cough and inflamed oral tissues, bronchial diseases.
Sundew : Helps with bronchitis, and is an antispasmodic and expectorant
Ivy : Relieves bronchitis, whooping cough, chronic catarrh and acts as an expectorant
Guaco : Effictive cough suppressant, bronchodilator and expectorant
Thyme : Helps with bronchitis, whooping cough; serves as antibiotic, expectorant, and cough suppressant
Therapeutic results are obtained by consuming 6 teaspoons a day! Make sure to stock Bronkotux, both adult and child versions in your medicine cabinets for a healthy and strong winter season!