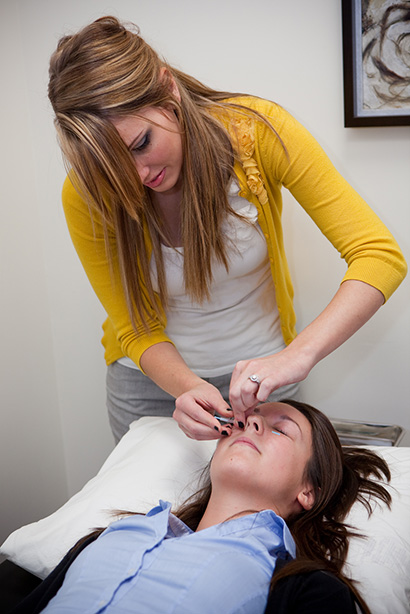 Ever since its establishment in 2010, this Halifax-based clinic has evolved to service a growing list of patients by staying dedicated to an excellent naturopathic practice.
By Irina Lytchak
When we last spoke with naturopathic doctor Rosalyn Hayman back in 2011 for a November/December Clinic Profile in IHP, her facility had already established itself as a world-class integrative health care centre that specialized in implementing an evidence-based practice. At that point, the Halifax Naturopathic Health Centre was a little over a year old and had already managed to attract a sizable clientele based on a strong reputation in terms of cancer care.
Transforming the team
The facility was originally established by Dr. Hayman and fellow naturopathic doctor Craig Herrington in 2010 but since we last connected, Dr. Herrington has moved on to work at the Ottawa Integrative Cancer Clinic where he continues to pursue his passion for cancer treatment as well as to be closer situated to his family.
"We still consult with [Dr. Herrington] a lot because his focus is mainly on cancer and he has so many resources," says Dr. Hayman, whose clinic continues to provide excellent cancer care to its patients. "We're in contact anytime we have a question about an oncology patient. He's been invaluable."
The team's resident naturopathic doctor, Maggie Pattillo, was given an opportunity to step into a much larger role as well and joined Dr. Hayman as her business partner and co-owner of the clinic. Since then, the office also welcomed a new clinical social worker, Jennifer Van Kessell, who has a Masters in clinical social work and has been very busy helping clients with her services.
"We find that [Van Kessel] is such an important new addition to the team," says Dr. Hayman. "Her role rounds out the whole mental health portion of naturopathic medicine and although we're trained in counseling, it's only up to a certain point. It does help to have someone who really focuses on that."
And it doesn't stop there. The clinic now also has a registered holistic nutritionist who has been an excellent resource on educating patients about undergoing dietary changes. Wendy McCallum, author of Real Food for Real Families, was originally a lawyer living in Calgary but after some time, realized that her hectic schedule didn't allow her to feed her own family in a healthy manner. Since then, McCallum has been able to dedicate herself to the Halifax clinic and to her family's health.
"Her focus is feeding healthy families, which is amazing and people get so much benefit out of it," says Dr. Hayman.
The continued growth of the centre has also allowed the team to bring in two full-time receptionists. While Nicole Hynes still serves as the clinic's office manager, the new administrative assistant, Bethany MacIsaac, also specializes in photography and has been able to assist the clinic with website redesign and promotional materials. Licensed acupuncturist Sarah Bing has since focused in on assisting local reproductive technology centres.
Patient care developments
Since 2011, a number of the clinic's staff became mothers, including Dr. Hayman and Dr. Pattillo. That, along with several other factors, has played into the clinic's shift of focus on preconception care.
"There are a lot of people doing in vitro fertilization and as a result, we're doing a lot of work with fertility patients and specialists," says Dr. Hayman. "I think that infertility is definitely becoming more of a common problem but also I think we're getting results. And as soon as one woman gets a positive result, she's going to tell everyone."
In addition to this, the clinic continues to be recognized for services specializing in women's health, including infertility, peri-natal care, menopause, and hormonal concerns. Patients can also receive support regarding gastrointestinal complaints, fatigue, and intravenous nutrient therapy, which is managed by Dr. Sarah Park, ND, and Dr. Pattillo, ND, and includes high-dose intravenous therapy, high-dose IV vitamin C, and Myers' cocktail vitamin B12 injections.
Plans going forward
Dr. Hayman is proud that her clinic on having the largest staff in the province but she also admits to having thought about expanding. She says that the two potential routes to go in the future include occupying space within the office's existing location or establishing a satellite clinic under the same name to operate outside of the city center.
"At this point, I'm not really sure how we'd do it but I'm always thinking that way," she says.
Dr. Hayman also foresees that the next decade will bring about quite a few developments in the naturopathic community, including specialization in specific areas of the practice.
"Just as there needs to be general practitioners in medical practice, like your family doctor, there needs to be that in naturopathic medicine as well," she explains. "That being said, there is definitely a lack of specialists within naturopathic medicine and I think that as we go forward, that's going to change.
For now, the Halifax Naturopathic Health Centre continues to excel and its team continues to excel at doing what they do best, which is delivering exceptional standard of care to their patients and promoting naturopathic medicine.
"Our clinic is known for being a beautiful space in the heart of the city and naturopathic doctors with years of great success and reputation," says Dr. Hayman. "Our administrative staff knows everyone by name, patients are people and a warm cup of tea awaits you."
Halifax Naturopathic Health Centre Team:
Dr. Rosalyn Hayman, ND: Naturopathic Doctor
Dr. Maggie Pattillo, ND: Naturopathic Doctor
Dr. Sarah Baillie, ND: Naturopathic Doctor
Sarah Bing, RAc: Registered Acupuncturist
Nicole Hynes: Office Manager
Bethany MacIsaac: Administrative Assistant