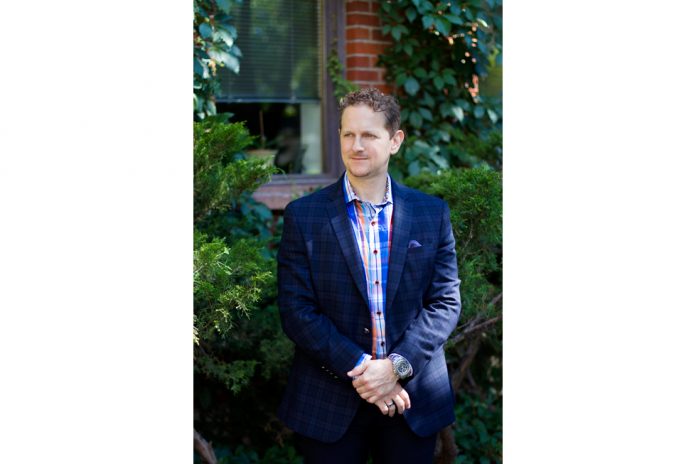 Daniel Lupu has taken the art of supplement and health retail to another level. Here's how education, passion and a desire to help have grown his Toronto-based Nutrition House.
By Mehreen Shahid
When Daniel Lupu was a teenager, his parents would give him five dollars to go to the arcade at the local Winnipeg mall. Instead, he'd visit Nutrition House and comb the isles, jotting down notes on product ingredients. Then he would go to the library and spend hours reading up on the ingredients in further details.
This early introduction to the healing powers of supplements and Lupu's staunch belief in the curing properties of food, pushed him to study homeopathy.
After achieving a Bachelor of Science from the University of Manitoba, Lupu enrolled at the Manitoba College of Homeopathic Medicine to become a homeopath.
After moving to Toronto, he established two private homeopathic medicine practices, one at Yonge and Eglinton from 2004–2009, followed by one at Christie and Bloor from 2009–2013. After almost a decade of treating people with homeopathic medicine, Lupu decided to get involved in the retail side of the business.
"I could reach more people as a homeopath if I were in the business of health products," he says. His opportunity came at a Toronto trade show in 2013, and he put in an offer for his own Nutrition House location at Hudson Bay Centre on Bloor Street, Toronto. After a month of negotiations, the store was finally his.
Give the People What They Want
"For any retail business to succeed you need to have visibility, customer interaction, acquisition and location," says Lupu. He had the location part covered, with a 600-square foot store at Yonge and Bloor Street.
To increase his store's visibility and customer interaction, he decided to take advantage of being close to three of the city's most popular GoodLife gyms. "Right away, I started networking with GoodLife and tapping into the category of 18 to 35 year olds," says the 40-year-old entrepreneur. "I looked at other nutrition stores in the area, and they were selling a lot of sports nutrition; as a business you have to have something for everybody." He wanted to rebrand his store as a place where patrons can get healthy snacks as well as sports supplements.
Lupu recast the store as a Sports Nutrition House, and took the store from an inventory of $27k, which was less than the bare minimum Nutrition House inventory requirement of $60k, to four times that within one quarter.
"My current inventory is at $170k, with the long term goal of keeping it closer to $150k year round," he says.
As a sub-lease tenant from Nutrition House Canada, the HBC store follows the same inventory list as does every other national franchisee. "We have a core group of products that every store is mandated to carry for consistency across the nation. However, as a storeowner, I have the ability to carry brands that my customers are looking for."
When he first started out, Lupu followed recommendations by Shirley Yates, who is Nutrition House's franchisee director, and knew the core group of top-selling company products very well. Lupu also conducted on-ground research for the first six months to see what his customers were demanding.
"I would write down what people were looking for if I didn't have it. I would go to trade shows and conferences and sample and taste test and do my research on the ingredients," he says. If people requested specific products that his store didn't carry, he would do his research and then educate and direct them to an alternate product.
As an educator, Lupu wants to let his customers know they can trust his knowledge on the subject. He studies each vendor's catalogue closely and then does his own research on each ingredient in the products to decide which non-GMO and natural products he would like to keep in his inventory.
As a result, Lupu includes products of choice in every category and places them in a way that makes it clearly visible to everyone who comes to the store.
Keeping Customers Loyal to Your Brand
With the great volume of foot traffic at Yonge and Bloor comes great competition. However, Lupu has never felt threatened by the Shoppers Drugmart across the hall. He feels it's a matter of duty as a natural health practitioner not to carry mass brands. "It says something if you are selling the same products as Walmart."
Lupu feels that his store, offers a better selection and loyalty programs such as a Nutrition House loyalty card that gives customers a point for each dollar spent. He also has an in-house discount campaign, exclusive to his location.
"When I first started the store, I started a 10 per cent discount for seniors on an ongoing daily basis under the banner 'Young at Heart,' " he says. A special hand-delivery option is available for loyal, aged customers who are unable to come to the store from their Bloor Street condos. There is also a 10 per cent discount on products for children up to the age of 18, as well as GoodLife members. (Staff at the gym also get 15 per cent off products.)
All holistic practitioners, naturopaths, chiropractics, massage therapists, acupuncturists, homeopaths, personal trainers and natural medicine practitioners also get a 15 per cent discount.
Top Sellers
Lupu strongly recommends that retailers ask their vendors to provide samples. Sampling is crucial in helping patrons decide what they would like to buy. "I work with my vendors to ask them for samples for every order so that customers can try it and commit that they're going to spend a certain amount of dollars on this product," he says. This also open doors for furthering the conversation with shoppers.
When it comes to customer favourites, some of his best selling products in the supplements section include, but aren't limited to, Activ-X Multivitamins for Men and Women by Platinum Naturals; HCP 30 & 70 Probiotics by Progressive; Maca by Preferred Nutrition and Curcumin by Organika.
Among the sports supplements, Lupu finds that the most popular items are True North Nutrition's Synergenex Ephedrine HCL; Perfect Nutrition's Burn FX Fat Burner; Natural Factors' Vegan Greens Protein Bar; Renew Life's Cerebrum DHA Fish Oil; Naka Professionals' Naka Pro Collagen Powder and Tristar Naturals' Tristar Naturals B-100 Complex.
Promotion and Social Media
Lupu's education as a homeopathic doctor and free in-store guidance is not limited to personal consultancies. He says Instagram and Facebook are a huge help in engaging audiences.
"I tell people to follow us on Instagram to find out what we're sampling today."
He often posts educational articles on Facebook so followers can learn something new each time they visit the page. Last September, Lupu started networking on Instagram using an exclusive hashtag #TeamHBC.
He decided to sponsor a few of his employees, who were also amateur bodybuilders at the time. With Lupu's and Nutrition House's sponsorship and support John Alexander competed at the Arnold Classic in Ohio earlier this year and at Mr. Olympia held in Las Vegas last year.
Lupu proudly talks about another one of his customers who also took his advice for personal training.
"One of my very first athletes, Fabi Schneider who works at ILAC, competed in and won her very first Ontario Professional Association competition."
Alexander and Schneider use #TeamHBC to help solidify Lupu's natural health store as the sports go-to place.
Under the same hashtag, he guides his customers, who are aspiring athletes, about sports nutrition, in particular, and body nutrition in general. In return, they use the exclusive tag in their social media streams, helping drive eye traffic to Lupu's social media.
In Lupu's opinion, Instagram and Facebook give him the ability to communicate with his audience in more of a professional manner, as compared to some other social media outlets.
"It's instant," he says about Instagram. "I'll post something and within five minutes I notice I have 50 likes or views, and in my mind, they are potential customers."
An Educated Staff
"I have been very blessed when it comes to staff," says Lupu. "One of my [primary] concerns was to hire team members who are educated, motivated, friendly, and as passionate about [the store] as I am."
His team includes four staff who all have health-related degrees and were past customers, including the enthusiastic Mahwush Ansari. Before joining Lupu's store, Ansari had already been a part of Nutrition House at another location.
"I liked the fact that he's working so hard to educate people," says Ansari about her boss. "That's very important for me when you're working in the health business."
Moving Forward
Up next for Lupu is a 12-month marketing campaign with Pattison Ads. "There are almost 50,000 people who walk down this concourse every day and there is opportunity to market ourselves through this."
Additionally, he and his team will be working on pushing out recurring promotions such as allergy and flu seasons, New Year's resolution time when people are looking to lose weight, and breast cancer and prostate awareness months.
As a progressive owner, he has partnered with Naka Professionals to create two special bonus packs specific to his location. "We have made an omega-3 house brand with a bottle of 225 capsules matching the price of 175 capsule bottles carried by other retailers."
Similarly for magnesium bisglycinate, Lupu's store carries an exclusive bonus size packing of 180 capsules compared to other stores that carry 120 or 150 capsules per bottle.
Lupu would also like to start giving back to the community that has helped him achieve his dream of running a successful business. He wants to request patrons to donate a dollar with every purchase they make at Nutrition House to be donated to SickKids Hospital in Toronto.
His biggest motivation is to maintain the current success levels and to find ways to go even higher by potentially starting a second Nutrition House location within the GTA when the right opportunity comes along.