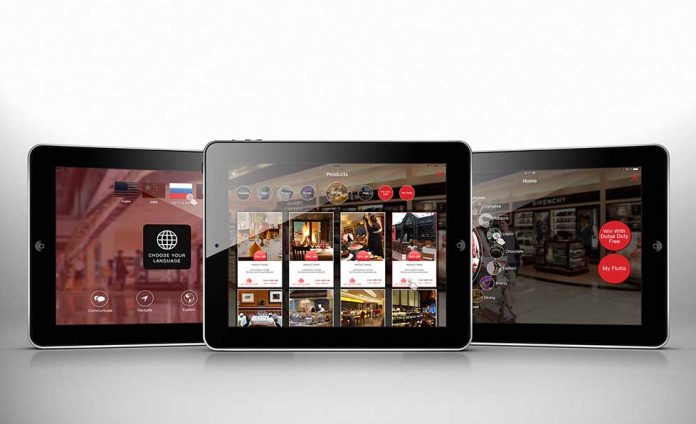 Rytalo helps companies get into digital marketing by using its expertise to rocket retailers to success.
By Kavita Sabharwal
Rytalo started out four years ago as a small firm that focused on digital marketing activities from a technological perspective. It uses its expertise while working with new companies, grants and organizations using mobile technologies and assisting companies with using them within their operations.
Moody Hashem, a digital marketing consultant for the company, explains that at its start, Rytalo worked on building mobile applications and using them to assist companies. It experienced a growing demand for not only the technology involved, yet for its services as well.
"It's getting more complicated, not only from a technology perspective but also to help those brands utilize the different channels of marketing on the digital side to promote and to engage their clients. That's why we started building different services to help those organizations," says Hashem.
After a few years, the company began focusing solely on the retail market because it saw a demand for help in this region. Rytalo has seen a growth in companies looking at mobile applications in order to have a digital presence. Whether these companies are new to digital marketing and are looking for a consultant to advise, plan and partner with them to create a strategy across all channels, or they have an e-commerce presence that they find difficult to maintain or too competitive, Rytalo has a service that can suit their needs.
Teamwork           
Rytalo operates in North America and the Middle East, with offices in Toronto, Dubai and Cairo, with 22 employees who work under the company's three partners. Hashem looks after the digital marketing strategy and the plan to achieve it by working closely with his clients. The second partner focuses on the software development and operations, while the third partner handles digital marketing services and activities.
"We're a partnership, basically. The three partners have expertise and strength in different areas," says Hashem. "These are the three markets of what we provide as well. One is the strategy for our clients, which spans across technology, business model, engagement and marketing activities. The second is technology, development, leveraging and the software across all systems and platforms. The third are the marketing activities, social media, SEO marketing, campaigns and inbound marketing."
Rytalo has developed the skills to deal with all these aspects because, according to Hashem, the retail market is undergoing a big transformation that retailers must contend with.
"In the last two years, we have seen lots of different technologies getting very persuasive and sophisticated. Digital activities in general have become very competitive and complicated and most retailers are either taking steps to get into different channels to promote their products and business beyond their existing current stores and some of them take steps to find better and more effective ways of doing it and they need some help. Or they haven't done anything and they are looking at it and trying to find an entry point," says Hashem. "Those are the two scenarios that we work with to help the client with the strategy and partner with them to leverage all this new technology and different channels so they can expand their business and stay competitive, because that's the big issue now. That's basically why they come to us."
Pick your service           
Rytalo offers several services designed to help a company transition into the digital marketplace, including setting up an online store with optional help updating content and promotions, creating a mobile application for iPhones and Androids, creating a Facebook store that links directly to the company's online store and handling social media, content marketing, search engine optimization and online advertising. Rytalo has even developed a special package for digital newcomers.
"The first package is to have their own online store, mobile application or store and presence in social media," says Hashem. "We immediately put them on this platform which would allow them to have a presence across all those channels and then help them to set up those stores, products, categories, inventory, all the logistics needed for them to start their business online across all those channels. This is the base package to set up their presence and provide them with essential parts required for them to expand into this domain."
Rytalo's portfolio includes Quality, an electronics and gadget retail store that resells major brands such as HP, Asus, Lenovo, Dell and Samsung at several retail stores across the U.S. and at several locations in the Middle East.
"Quality was looking for more than just launching an online website. They were looking for a full comprehensive strategy on how to leverage the online channels to grow their revenue within their target markets without jeopardizing or creating an overhead to their current operation," says Hashem. "Rytalo's partnership business model clearly resonated with Quality's need to have a partner who will be able to build the technology platform, establish processes, integrate with current processes and provide required marketing services needed to generate traffic and boost sales."
As a result of the partnership, Quality successfully launched a fully branded online store, mobile application and Facebook store, which Rytalo fully integrates with existing store inventory management as well as customer services and call centre systems.
"The Rytalo team assisted in setting up all store configurations, product details, tax setups and shipping and handling logistics. It also fully automated the fulfillment of purchase orders and customer services with existing Quality resources," says Hashem. "The Rytalo Internet marketing services team continuously managed all promotions and online campaigns via Google and Facebook advertising that resulted in increased consumer interactions and a growth in revenue."
For those retailers who are unsure of introducing an online presence, Hashem warns that if they wait too long, it may be too late. "Across the last three years, there has been a huge growth happening on the digital side and it will continue in the coming five to 10 years. Unless they act now, they will lose the opportunity and ignore a big sector of users," he says. "Unless they give them what they're looking for, customers will go somewhere else."
Hashem believes that Amazon joining the ranks of the National Retail Federation's Top Retailers, and even breaching the top 10 of the list, bodes well for e-commerce sites everywhere, since an online retailer has never before reached that level. "You can see how it's not a tiny niche in retail anymore, it's beyond that," says Hashem.
A human experience
Customers who value human contact while making purchases won't be left out in the cold. In reality, Hashem believes it's easy to cater to those customers through the right application.
"You cater to consumers who prefer to come to the store, go through the products and get engaged with sales and customer service representatives one-on-one," says Hashem. "Then there are other customers who would like to do it themselves. They don't want to talk to customer service, they want to use technology to give them the tools to do it."
He offers up an alternative to meet the needs of customers who prefer the human aspect of shopping. "You can still use a mobile app in the store which would allow you to request attention from the sales rep. You get in touch with them, they guide you through it, and then instead of waiting in line to complete the purchase, they can do it right through the application," suggests Hashem. "It doesn't have to be where you put the entire store online and you can purchase and that's it. It can provide indirect engagement and provide users with the values, which will escalate into the purchase of products. It's not a one-time thing that you do; it requires a plan and ongoing activities where you start somewhere with basic offerings and engagement and build on top of that."