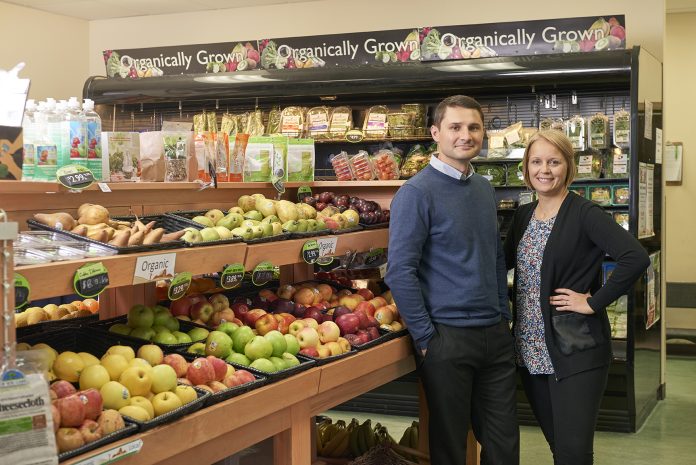 Rainbow Foods moves beyond day-to-day operations to grow business
At a Glance
Name: Rainbow Foods
Owners: Mischa and Sarah Kaplan
Location: Ottawa, Ontario
Staff: 63
First Store size: 8,000 sq. ft.
Second Store size: 2,000 sq. ft.
Website: rainbowfoods.ca
Top Selling Products
Food: Live Organic Kale Chips, Only Oats clean grains, Manitoba Harvest hemp products
Vitamins/Supplements: MegaFood whole food supplements, Natural Factors Whole Earth and Sea, Botanica Omegalicious fish oils
Personal Care: Aromatherapy/essential oils, local and natural hand soap
Miscellaneous: Eco-house wares, bamboo kitchenware
Rainbow Foods has seen steady growth in the past three years. The Ottawa-based retailer became a second-generation business when Mischa Kaplan and his wife Sarah took over operations in 2012. Since then, business has boomed and Rainbow Foods is now one of the largest independent retailers of natural products in Ontario.
The original Rainbow Foods was founded in 1978 by Mischa's parents, Michael and Janet Kaplan. The couple commenced operations using rustic bins and a small selection of herbs and vitamins. Now, Rainbow Foods sells over 25,000 separate products—groceries, supplements and other items—and is considered an Ottawa landmark for health enthusiasts.
Mischa and Sarah respected the years of service Mischa's parents put into Rainbow Foods, but the couple also saw the potential in growing the company as well. "I'd grown up in the business, so I knew it fairly inside and out," says Mischa. My parents had always been fairly content to work on the floor, really focus on building that customer base, and sort of manage the business themselves."
THE GROWTH STRATEGY
The couple implemented a growth strategy to take Rainbow Foods to the next level. First, the couple took steps to separate themselves from the day-to-day management of the business in order to focus on growth. Since taking over operations, the Kaplans have opened a second Ottawa location in the spring of 2014 at the Greenbank Hunt Club Centre—with a third undisclosed Ottawa location on the way.
Kaplan reiterates this decision was not to make customers second. "We are very conscious about maintaining a connection with our customers," says Kaplan. "However, Sarah and I stepped away from the day-to-day operations to spend more time on business development. Opening the second store was a lot of work and opening a third location wouldn't be possible if we had to be on the floor full time."
COSTS & EMPLOYEES
Another step in the Kaplan's growth strategy was tightening up costs and bringing expenses under control. "I always thought, watching my parents operate Rainbow Foods, that unless the company is profitable, there's not much point in being in business because it's just so much stress and so much work."
Employee satisfaction is an important element to Kaplan's growth strategy.
"We've made some pretty big changes to how we train and retain staff. For example, we offer a universal and very comprehensive benefits plan," says Kaplan. "We try to keep employee engagement really high by involving employees in most of the major decisions we make."
ADMINISTRATION
In addition to opening new locations and building employee satisfaction, the couple has spent a lot of time beefing up corporate headquarters. "The goal is to grow the business," says Kaplan. "So, we pushed both operations and administrative responsibilities onto other people [a full-time financial controller and human resources manager] who can bring professional competencies into our business to help build Rainbow Foods."
At the moment, the Kaplans are only focusing on growth in the Ottawa market and not other places such as the Greater Toronto Area.
"We've thought about moving into a new market," says Kaplan. "Right now, it's just a question of what market would serve us best. The GTA would probably not be somewhere we would jump into anytime soon, but there are a lot of other markets in our general area, Southeastern Ontario, that I think are still fairly open as far as natural retailers go."
THE DIGITAL AGE
Many natural health retailers are offering an extensive inventory to customers on the Internet. The Kaplans, on the other hand, opted out of selling their products online in favour of perfecting the in-store experience for their customers.
"We actively chose not to pursue e-commerce because we didn't think that we could create value with it for Rainbow Foods," says Kaplan. "It's something that's being accomplished in bigger and better ways by other retailers, and we decided to let them have that space."
Kaplan says the decision has not majorly impacted in-store sales. "I think there's always going to be a large segment of the market that wants to come and speak to people in person and to make those purchases," says Kaplan. "I think our supplement sales, if anything, will see a bit of a slide because of the e-commerce, but I think from the food perspective, I don't see much of a threat."
GUIDING PRINCIPLES
Similar to any natural health retailer—or any business for that matter—growth is not without its challenges. Poor reputation of some retailers, despite the natural health industry's trip into the mainstream, has become a problem.
"There's a lot more recognition for our industry, but that comes with a lot more questionable practices on the part of some food manufacturers and some food retailers," says Kaplan.
The Kaplans use a set of guiding principles, which are used to identify Rainbow Foods as an honest retailer who provides the very best product to customers.
HURTING LOONIE
Retailers in every industry have been affected by the weakened loonie. Kaplan says that Rainbow Foods has seen very little impact on their business. "Aside from just having to readjust a lot of our prices in the last six months, I can't say it's had a huge effect," says Kaplan. "Most of our consumers now are used to food price fluctuations—it happens at Rainbow Foods and other grocery stores as well."
FINDING A BALANCE
Kaplan says that the secret to his success is finding a balance between watching the bottom line and making customers happy.
"I think we've done a good job of maintaining that balance," he says. "We haven't lost all the great things my parents brought to the business, and all the things they did in terms of customer engagement, but we've managed to keep that and operate a more profitable business—a business that has more money to implement programs such as health benefits for employees."
"There is a positive side that I always keep in mind," continues Kaplan. "The profits aren't for Sarah and I to take home at night, they're for keeping our business competitive."
BUSINESS MATTERS
How Kaplans approach profit per-square-foot and succession planning
PROFIT PER-SQUARE FOOT
"We could probably be better in this area. We do look very closely at profit per-square-foot in both our stores, but it's more about tracking this metric as a general indicator of the business's health, rather than as a tool for allocating floor display. We certainly do consider how much floor space we'll give to certain categories (depending on gross profit, sales volume, among others), but we don't have this down to an exact science. Our method of determining floor display is a combination of looking at the profit-per-square foot in addition to a number of other factors (general store promotions, new products and making space for local products)."


SUCCESSION PLANNING
"Since we've only been running the business since 2012, we are still, to a certain extent, in the process of a succession plan with my parents. We haven't yet put anything into place in the event that anything happens to Sarah or myself, but since we both own and operate the company, a challenge would only be if we needed to replace both of us at the same time. We do have succession plans in place for many of our key employees, which I think is crucial. For instance, our financial controller is currently in the process of retiring, and he will be replaced by our senior bookkeeper who is in the process of completing her accounting designation."
BY PHILL FELTHAM
photography by JESSICA DEEKS