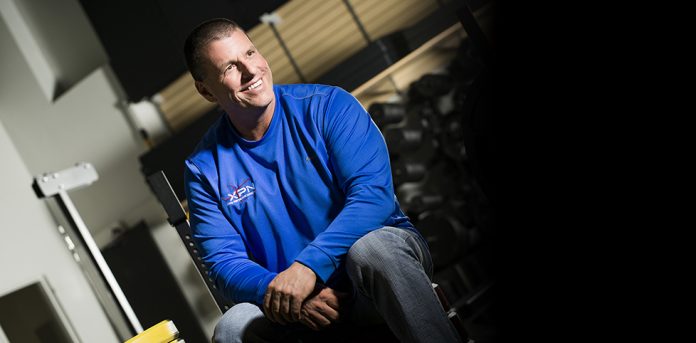 By Melissa Reynolds
Photograph by Christyna Mérette
Daniel Bérubé began to make a name for himself in the world of fitness when he was just 16 years old. By 1992, he had accumulated accolades and praises for his achievements that included winning the regional bodybuilding title and setting the world record for heavy lifting with a weight of 612.5 pounds.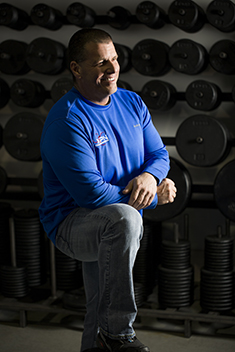 In the same year, Bérubé decided to turn fitness into a career. He started working with fellow athletes, selling supplements and fitness equipment. A year later, he opened his first Nutrition Sports Fitness store in Quebec.
Fast forward to the future and Nutrition Sports Fitness now has 14 locations across Quebec and one in Ottawa, Ontario. Each location employs two to six people. Bérubé's devotion to health and his personal success in the field of fitness, have made him a reliable go-to source for fellow athletes and health consumers alike.
An Industry Born From Passion
"I started the stores because I had a passion for sports, training and supplements," says Bérubé. "At that time, not many people were specialized in sports supplements retailing, and I felt athletes needed a place dedicated to helping them with their training needs."
Bérubé says that initially he didn't have to use major marketing to get the word of his store out there. Word-of-mouth did the trick.
It wasn't long before Bérubé started to look to the world of supplements as well. The athlete and storeowner was uncertain of the quality of materials being used in the fitness health products currently on the market. Prior to 2004 there was a lack of proper regulation in the health product industry and Bérubé wanted to make sure all of the ingredients he was putting in his body and selling at his store were hand selected and naturally procured.
In 2004 he created Xtrem Performance Nutrition (XPN) to offer customers a quality product that was safe and effective. Starting his own product line gave Bérubé what he wanted – full control of the whole process from manufacturing to selling.
XPN became an immediate success, and Bérubé soon created Supplements ControLAB Manufacture, which manufactures XPN, as well as 24 other lines. "We never tried to cut on quality for [cheaper] prices," says Bérubé. "That's why we have a strong reputation."
Fitness Fans
One of Bérubé's biggest fans is Georges St-Pierre, also known as GSP, who is a Canadian mixed-martial artist and former three-time welterweight Ultimate Fighting Championship title-holder.
To augment his training, GSP wanted a product that was clean and trustworthy. He says he noticed a difference in his training after using products from the XPN line. As a gesture of his appreciation, GSP reached out to Bérubé about putting his name on the product. It would be the first time GSP would endorse a supplement line.
"His feedback is always well appreciated," says Bérubé, who takes GSP's suggestions for improvements and new product suggestions to heart. Bérubé also works with other athletes, including strongman Jean-François Caron, professional boxer Kevin Bizier and multiple Canadian Football League players.
"We have four products developed by our team of experts and Georges himself," says Bérubé. These products include Pre-Training Xtrem (a strong, stimulant-free pre-workout supplement), a protein called Protein Rush, Fight Time BCAA (a high concentration BCAA product) and a powerful joint support formula called Pro Joint Support.
The Product Lineup
In total the company produces 25 brands of supplements. "The top selling brands are XPN, ATP and NFA," says Bérubé. He adds that, in stores, XPN is the most popular brand and represents around 55 to 60 per cent of total sales, however Allmax, API Xtrem and Athletic Therapeutic Pharma (ATP) are good sellers as well.
In terms of growth, the branched-chain amino acid (BCAA) category has shown the greatest strides. Studies supporting the benefits of BCAA during physical activity have encouraged more people to try them. "And the more they try them, the more they love them," says Bérubé.
One of Bérubé's goals has been to reduce the number of different products that need to line his client's shelves. While training athletes, Bérubé would recommend different products for hydration, energy and recovery. His clients ended up with too much on their shelves so he decided to combine a number of products to come up with three combinations that really deliver. These include: Delta Charge, an endurance sports drink, Pre Workout Xtrem and Post Workout Xtrem. The three are complementary, however they can also be taken separately.
"Pre workout Xtrem is a stimulant-free pre workout [drink] that is highly concentrated in amino acids, which promote natural energy. Being stimulant-free you don't get the stimulant crash after the training. Post Workout also contains a high concentration of amino acids and contains other ingredients to stabilize the stress hormone (cortisol) after an intense workout," says Bérubé. "When we introduced these products, no one believed that we put all those ingredients in [a single] product," Once they saw the results, however, they were convinced.
A Growing Franchise
Nutrition Sports Fitness is continually expanding. When looking for new store locations, Bérubé picks cities where there are a lot of gyms and sports are popular. Nutrition Sports Fitness' biggest location is 8,000 square feet and acts both as a retail location and warehouse from where products are distributed to gyms and other store locations.
With the added growth, Bérubé has seen a change in clientele. When the first store opened in 1993, patrons were exclusively bodybuilders, strongmen and people from the gym right next door. Now customers include athletes, runners, cyclists or even people who are simply interested in maintaining good everyday health. "It went from bodybuilders and strongmen, to pretty much everybody!" Bérubé says.
Local health practitioners also refer their clients to Nutrition Sports Fitness, and experts at the store refer customers to local physiotherapists, chiropractors or massage therapists – there's a chain reaction of good health.
The stores are continually looking to expand, however any potential franchisee needs to promise to maintain prices at a certain level, keep a base inventory, and use Nutrition Sports Fitness as their only distributor.
[blockquote style="center" color="#0f0d0d" bg_color="#ebe6e6″ border_color="#e61717″]"Our business is a family business and has always been about trust and warmth. If we are unsure of you, we won't sell our products in your facility."[/blockquote]
Bérubé is careful about who sells his product – even when it comes to other retailers. "We meet every single retailer who wants to sell our products, but we only select people we can trust," he says. "Our business is a family business and has always been about trust and warmth. If we are unsure of you, we won't sell our products in your facility."
A Digital Future
Like any good business these days, Bérubé's company has entered the online world in order to reach a wider audience. The company now has an online store – Dtone.ca. "Social media has changed the game completely," says Bérubé. "We used to get our marketing only by people talking about us, plus TV and radio ads; now we have two people working full time on social media. It is the new advertising method. The reason why it's so popular is because it's international."
Even though they have only been selling online for a few years, Bérubé notes it has helped build the business abroad because of added shipping and packaging opportunities and the benefit of being able to sell to people in any location. The online presence has also helped drive more customers to the stores.
Seal of Approval
All of the products Bérubé currently sells are Health Canada approved and carry the current good manufacturing practices certification from their manufacturer. He adds that they are in the process of becoming an NSF International (a worldwide anti-doping agency) certified facility having their products approved and certified for sports.
"Some athletes use our products without any problems, and the reputation we have in this department proves that it is going to be easy to achieve this certification," adds Bérubé.
The next step for the company is to move to bigger facilities due to its constant growth.
For Bérubé, it's quite simple, "We started little and never even imagined making something that is not quality, and this is why we are where we are now."
Bérubé is happy that his life's passions have helped others realize their own goals. "I think my passion and the commitment my team has for sports, training, and nutrition sets our company apart from others. We are truly just a bunch of passionate athletes, all in the same building. We also have a strong drive for quality and job well done, which gave us a strong reputation from the beginning and still keeps us going today."