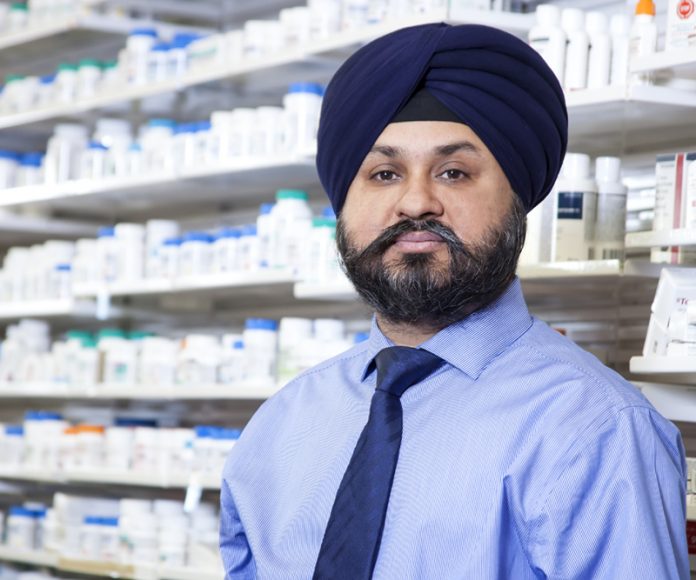 We met Jaspreet Bajaj at a recent industry event and thought we should share his view of where the community pharmacist may be heading in the near future. His expertise illustrates how an independent retailer can weather a changing market and can contribute significantly in Canadian healthcare system.
By Rob Shaw
Scattered across the ever-expanding cityscape of Brampton, ON is a small chain of 4 pharmacy retail stores owned by a pharmacist with a vision. Jaspreet Bajaj earned his Master's in Pharmacy in 1997 from Nagpur University in India. He also earned an MBA and has practiced as a pharmacist in Ontario since 2003. He began his pharmacy retail career working as a staff pharmacist for a Shoppers Drug Mart, and then ended up becoming an independent store owner of Father Tobin pharmacy, Sandalwood Care Pharmacy, Fandor Pharmacy and recently opened Squire Ellis Pharmacy.
Bajaj told us, "I love being an independent pharmacist owner and these stores have always stood for serving the patients best interests and I like that; it suits my personal philosophy."
In 2011, opening a new store in a new subdivision was significantly challenging. Aside from the global economic recession current at that time, a new neighbourhood is not yet mature or well-settled and business was sporadic. Bajaj knew he could always dispense the very best customer service to patients and business soon picked up. "As a pharmacist, our biggest strength is we are "Medication Experts" and easily accessible to offer patient care and related services.
"Each store has its own demographic and with an increase in baby boomers it's not unusual to see a high incidence of chronic disease state issues like diabetes and hypertension. I wanted our main focus to not just to be a "Medication Experts" but also a "Chronic disease state management expert".
Not only does Bajaj bring a high level of education and service to patients of his stores, he envisions an evolution of the local drug store as a one stop healthcare shop by offering various services. Bajaj became a Certified Diabetics Educator as he recognized that patients often were not well-informed about their disease, which can risk unnecessary disease progression and related complications. He sees a trend where now patients come and ask for this education services within the pharmacy and books appointment
As Bajaj said, "A pharmacist is the right professional to advise and educate patients as they are the most knowledgeable about medications in general, and potential interactions with other drugs and natural medicines."
Bajaj envisions the pharmacy of the near future where pharmacists could transition to providing medical assistance for minor ailments, such as Acne, Dry eye, acute cough. Many common treatable illnesses do not require attention by a medical doctor but a pharmacist equipped with the knowledge and accessibility in pharmacy may contribute to slowing the rising costs of health care in Canada, while providing immediate relief for patients. However, legislation in Ontario does not currently support providing these services in a drug store it should be noted.
When not thinking of better ways to improve the stewardship of health care provided by pharmacists across the country, he spends time thinking of better ways to serve his own patients. As he explains, "A lot of patients coming into our stores are looking for alternative medications. I provide a large inventory of ayurvedic medications as I saw a need to serve the population in the area with a form of health care traditional for them.
Bajaj believes his stores are well-regarded by his patrons as he trains all staff to give the best service with a personal touch. "I ask all employees to learn the first names of customers. Give them a feeling they are well-looked after when they come into the pharmacy." This gives him a competitive edge in a pharmacy world dominated by large box stores.
One service that the customers now like is that each store has a pharmacist that specializes in travel services, a new concept in Ontario community pharmacy. Bajaj said, "Canadians love to travel however may have special pharmaceutical needs. We want to take care of that special need and we were one of the first stores to offer this specialty service." Essentially, the pharmacist can assist the traveler by educating them on vaccines or other medications for before, during or after traveling, based on where they are going. Each travel locale may require very particular preventatives, (e.g. vaccines), or treatments for infections or illnesses virtually unknown in Canada. Not all pharmacies can immediately serve this need.
With services such as these that are innovative and dedicated to patient care, it's no wonder his method of retailing has been so successful. When speaking with him, it's obvious he has high regard for his profession.
Bajaj explains his love of the business this way; "Pharmacy was always my passion; the profession itself inspired me; helping patients with regards to their daily healthcare needs always motivates me. What really inspires me now is seeing the younger generation embrace the profession too and seeing that it is rewarding in so many ways. Well indeed, it is not just dispensing drugs."
PULL QUOTE: "Pharmacy was always my passion; the profession itself inspired me; helping patients with regards to their daily healthcare needs always motivates me."