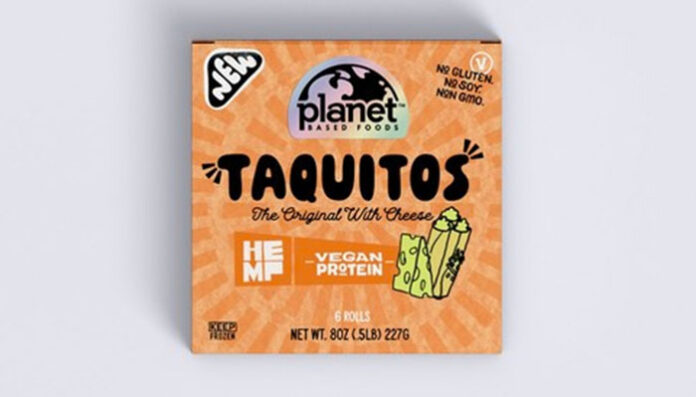 Planet Based Foods' taquitos are now available to foodservice and retail buyers looking to add delicious, soy-free and GMO-free plant-based options to their lineups, with direct-to-consumer distribution slated for May 2022.
Planet Based Foods' newest products represent an expansion into the plant-based convenience category after successfully launching its hemp-based burgers, sausages and crumbles in foodservice and via 
planetbasedfoods.com
 and Vejii.com. The company's innovative production process is the first to use hemp seed, along with pea protein and brown rice, to maximize nutrients and fibre in its plant-based meats with zero waste. The brand's Original Crumble now features a nutritious, plant-based ingredient in its new taquitos that also use 100% vegan cheese.
"Consumers are looking for new, convenient ways to incorporate plant-based foods into their lifestyles, and Planet Based Foods is delivering," said Braelyn Davis, CEO and co-founder, Planet Based Foods. "Our new taquitos feature our plant-based meat made with sustainable hemp and make it easy to enjoy classic comfort foods that don't rely on animal protein."
"We founded Planet Based Foods with one purpose: to establish hemp as a nutrient-dense protein source that is fit to weather the impacts of climate change and feed the planet for generations to come," added Davis. "The expansion of our product line to include handheld comfort foods creates a familiar and delicious way to introduce consumers to our superfood hemp-based meat while delivering exceptional taste, convenience and sustainability."